Vampire Diaries Relationship Scoop: Forwood to Move Backward
by TV Fanatic Staff at .
When we last left Caroline and Tyler on The Vampire Diaries, the former's silence spoke volumes. Sad, sad volumes, as she couldn't tell Tyler she understood he was now sired to Klaus, resulting in an apparent split for this adorable twosome.
And, unfortunately for Forwood 'shippers everywhere, it doesn't sound like the couple will reconcile any time soon.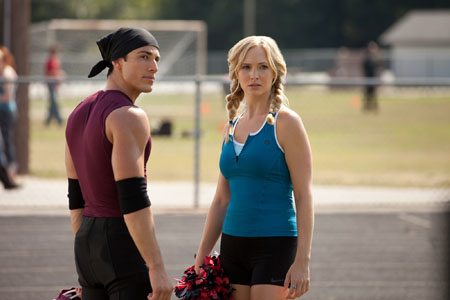 They have "a lot to overcome," producer Julie Plec tells Zap2It. "Because Tyler, on his own, has a lot to overcome. It's pretty bleak, right now, and it's only going to start to get bleaker before it gets better."

Tyler won't be happy with "anything" when the show returns on January 5 - read the official winter premiere episode synopsis now - Plec says, as Klaus will be exerting influence over his new charge, leaving Tyler in a "very, very bad situation that almost has catastrophic consequences. It's going to take him a while to earn his way back into the good graces of our heroes, his friends, and Caroline."

In a word: GULP.

In many more words: sounds off now with your hopes, expectations and fears for this fun couple. Are they doomed forever?

Tags: The Vampire Diaries, Spoilers
From Around the Web