Jane By Design Review: Pretty in Pink
by Carla Day at .
In my review of last week's pilot, I mentioned that the show was full of cliches, yet overall I enjoyed it enough to come back for more. Tonight's "The Runway" was again filled with familiar and unoriginal moments, but while I noticed these I didn't mind them as much.
Unfortunately, many of the program's viewers probably have never seen a John Hughes movie. Therefore, this story feels fresh and new. If you haven't seen Pretty in Pink, Some Kind of Wonderful or Sixteen Candles, go get them on VHS... I mean on DVD... and watch them! If you are enjoying Jane By Design, you will love those movies.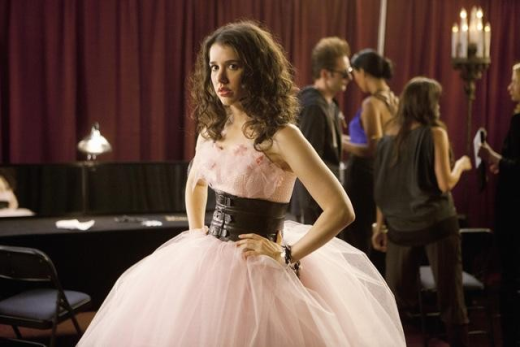 Jane continued to handle her dual life surprisingly well. Even though Billy didn't understand why she wanted to keep her job, he continued to support her steadfastly. His dedication to Jane makes it difficult to understand why he has kept Lulu a secret, even from his best friend. Sure, Jane dislikes Lulu with reason, but wouldn't she stand by his side as he has hers? At this point, I guess it doesn't matter since Billy broke things off with Lulu, but how will Jane react when she eventually finds out? And I doubt the break-up will be permanent.

Jane has quickly gone from unnoticed to a male magnet with both Nick and Jeremy fighting for her affections. You'd think she would be happier with a guy her own age, but she is much more comfortable in her "adult" role. Clearly not many, if any, women have ever brushed off Jeremy. Jane's rejection of his invitation for a "proper date" was empowering to see.

Despite her maturity and understanding with Jeremy, Jane is a high school student and overly trusting. Given how India messed with her on her first day, you'd think Jane would disregard anything India says. Instead, Jane listened to India's critique of her designs and unfortunately failed Gray. Jane needs to smarten up around India.

Gray is a difficult boss, even calling Jane by the wrong name, but she gave her another chance which showed that Gray isn't nearly as cut-throat as she first appeared. In the end, Jane succeeded and Gray used her proper name, Jane.

The main story was the collision of Jane's two worlds, with Homecoming and the runway show occurring the same night. Again, not an original story idea, but the way it played out was a bit fresh. Instead of the standard result of her secret being revealed by her outfit mess up, it instead ended up with a positive outcome.

The dress that Jane made from her mother's gown was gorgeous. It was nice tribute to Pretty in Pink. I never liked the dress from the film, so it was a relief to see Jane's dress turn out amazing.

The work side of the story, at least, ended well with her accidentally wearing the pink dress to the runway show, ultimately saving it. Unfortunately, Homecoming came to an end without Jane. She ditched Nick. Will he forgive her?

My favorite shot of the episode was when she stood all alone in the middle of the dance floor with all the shiny balloons around her in that gorgeous pink dress. It was a beautiful, yet sad scene. As she left the dance, she found she wasn't totally abandoned. Reliable Billy was there waiting for her!

Jane is so charming that it is a joy to watch this show. And, her trio of gorgeous men don't hurt either. It was nice to see Gray in person instead of via video cam this episode. Which do you think made Jane's night: Dancing with Nick? Having a successful runway show? Gray getting her name right? Or, Billy standing there waiting for her? Which would have made your night? Share your favorite moment in the comments!

Carla Day is a staff writer for TV Fanatic. Follow her on Twitter and on Google+.

Tags: Reviews, Jane By Design
From Around the Web