The return of Pretty Little Liars this week made one thing clear: the girls are finished playing the role of victim.
That's what series creator Marlene King emphasized to me over the phone this afternoon as well, saying the winter premiere "set the template" for what's to come on the back half of season two.
"Especially with Emily leading the charge," King said. "It's a nice metaphor because she was Ali's favorite and now she's A's favorite. Of course, being A's favorite means you're really her favorite target."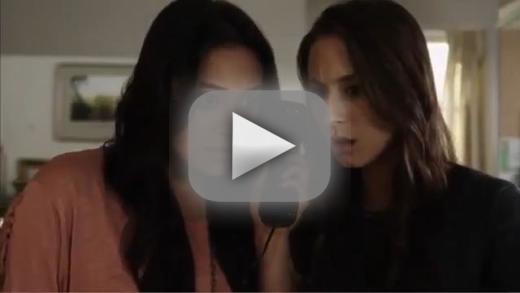 Whether it's due to these proactive actions or not King wouldn't divulge, of course, but by the end of the season, viewers will finally learn the identity of A. King said everyone involved with the show - from writers to producers to ABC Family executives - had input on when this would reveal would take place.

"It felt like the right time," she said. "But there will still be plenty of big mysteries even once A is out there."

Another noteworthy development from Monday's return episode centered on Aria and Ezra. They came out to the former's parents, something King said was an "organic" conclusion to "the tortured place they had been driven to by A and by their circumstances."

"It had been a long journey for them," King explained. "Once Aria fell on her sword for Ezra, he figured he had to do the same for her in return."

How will this change in their relationship affect the couple going forward? King relates it to the same theme as the girls' new stance against A.

"Aria is not being a victim anymore. She'll get angry and she'll look to redefine 'Ezria' on her own terms."

Pretty Little Liars airs a new episode on Monday. King teased that Lucas will play a "large role" in both the mystery department and the romance department over the coming weeks, and that much is made clear in the promo above.

Matt Richenthal is the Editor in Chief of TV Fanatic. Follow him on Twitter and on Google+.

Tags: Pretty Little Liars, Interviews, Exclusives