Up All Night Review: Clear Eyes, Full Hearts, Can Lose
by Chris O'Hara at .
The Up All Night crew may have been still nursing that post-New Year's Eve hangover because this week's episode, "Rivals," did not deliver the grudge match the title seemingly promised.
I had expected Megan Mullally to be a tremendous guest star, but the former Will and Grace stallwart failed to shine as brightly as her "rival" Maya Rudolph.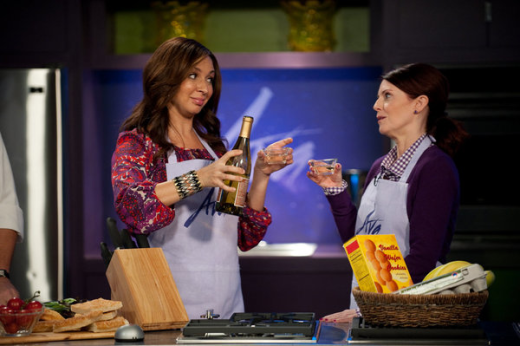 For the most part, Shayna was a good role for Mullally, it's just that in my eyes she will always be Karen Walker. So when she delivered her lines with that Southern drawl, I found myself wanting to instead hear the more familiar high-pitched shrill that helped her become such a break out actress.

I'm hoping with more appearances I will come to not be so distracted and appreciate what I'm sure will be tremendous performaces. It is no doubt a good problem for actors to have, to be so known for a famous role, but stars such as Nurse Jackie's Edie Falco have succeeded in endearing themselves to fans in new roles and I have no doubt Mullally can do the same. 

Chris's relationship with Laura was not the first daddy daycare dalliance to rouse Reagan's ire, but the fact that this one was centered around Chris watching Friday Night Lights behind her back made it the best yet. The amazing awkwardness during the dinner date with Laura and Gary had me reaching for the wine as well. Loved the attention to detail with Reagan sporting the red wine teeth.  

This scene, along with the one where Chris announced to a caffeine and Nerds-infused Reagan that he finally pulled the trigger on the P90X system, made for a good episode overall, but after such a solid showing on New Years Eve, I was left wanting a bit more.

Like Coach Eric Taylor told Vince, character is in the try, and this show certainly strives to be better each week, which is all we can ask for. Enjoy our updated section of Up All Night quotes now!

Tags: Reviews, Up All Night
From Around the Web