"Addicted to Love" got at least part of the story right. Addicted. Everyone is addicted to something and I'm not sure I like it.
I get what Sally is going through because what non-corporeal being wouldn't want to feel, but I'm closest to Nora, who seems to understand her monster in an almost primal way. It's very interesting to watch. Finally, I will be completely surprised if Being Human will ever make me look forward to seeing Suren on my screen.
So how did we get here? I have absolutely idea. Was it concern that the US and UK fans would continue to fight over similar storylines that caused the show to go so far off the rails?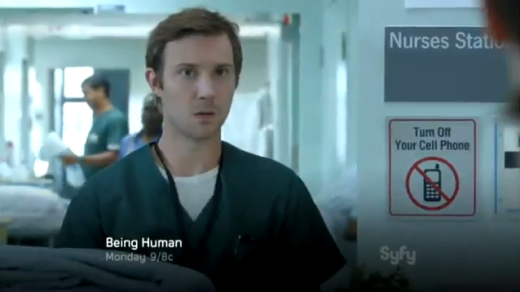 Aidan and Suren are almost as difficult to swallow as their victims' blood, which must be tough, since most of it ends up everywhere but in their mouths. Dichen Lachman sounds like a drunkard. Every word out of her mouth appears to be said through honey.

Hey, Mother, you were wrong. your daughter was not the best vampire for the job of running Boston. Her release was an unearned pleasure? You don't say? Why don't you drive a stake through her heart and put her back where she belongs: in the dirt.

The biggest bummer of it all is the back-in-time stories to the 30s or 40s. Not the kooky fun of the 50s to the 70s like we experienced with Bishop, this world was populated with boring parties, champagne; Aidan in a pencil thin mustache and with a spawn named Henry who is like a juvenile in constant need of discipline. You bet I was shocked to see he made it through the last 80 years.

Am I alone here? Are you guys enjoying Aidan and Suren, past or present?

Sally, you saw what Stevie was capable of doing. He completely erased a ghost from this earth. To nothingness. Did it never dawn on you to track him down and find out what else he might know? He told you inhabiting bodies was like crack (or something). Did you think crack was exciting for the living?

Sally eventually got stuck inside Janet. She didn't even know who Janet was, so it put quite a twist on things outside of the bedroom. The smoke monster (is this Lost?) came to her and knocked her the heck out of Janet. Yes, ghosts really can be worse for the wear after "tweaking." Sally truly looked like an addict who needed a fix. Then, she had to face the guilt that Janet remembered Sally's takeover. Somehow, I still don't think that will stop her from doing it again.

Meanwhile, Josh dragged Nora into his search for a cure with the purebred twins. Mind you, they want a cure that makes them wolves forever, and that's the cure Josh is trying to find. I'm a bit lost as to how that will help him and Nora. Josh isn't a good wolf. Nora's ex, Will, showed up, the one who hurt her in a way far beyond cursing her to life as a werewolf. Josh almost killed him. No, being a wolf is not the life for him.

The best part of the show? Nora shared with Brynn how she had fantasized about killing Will. I think we can safely assume that he is no more, and Nora found her own addiction. She woke up in the forest snuggled nude between Brynn and Connor. I cannot even imagine what that means for what's to come.

My rating is low this week. The lowest I've ever given and the entire score goes to Nora. Kristen Hager brought incredible life into a character that could have very easily been dismissed. She's keeping the show alive.

Carissa Pavlica is the managing editor and staff writer for TV Fanatic. Follow her on Twitter and on Google+.

Tags: Being Human, Reviews