Fox Reveals Bones Midseason Premiere Date, Spring Schedule
by Matt Richenthal at .
Fox has unveiled its revamped, slightly confusing early spring schedule.
It includes the winter finale of Glee; many airings of American Idol; the return date (finally!) of Bones; and the debut of Hotel Hell, the latest Gordon Ramsay-anchored reality competition...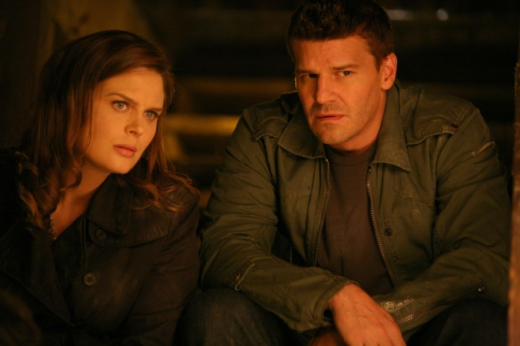 MONDAY
Monday, March 5:
8:00-10:00 PM ALCATRAZ (Special Two-Hour Episode)

Monday, March 12:
8:00-9:00 PM ALCATRAZ
9:00-10:00 PM  TOUCH (Pilot encore)

Monday, March 19:
8:00-9:00 PM ALCATRAZ
9:00-10:00 PM TOUCH (Series Premiere)

Monday, March 26:
8:00-9:00 PM ALCATRAZ (Season Finale)
9:00-10:00 PM TOUCH

Mondays, beginning April 2:
8:00-9:00 PM HOUSE
9:00-10:00 PM TOUCH

TUESDAY
Tuesday, Feb. 21:
8:00-9:00 PM GLEE (Winter Finale)
9:00-9:31 PM NEW GIRL
9:31-10:00 PM RAISING HOPE

Tuesday, Feb. 28:
8:00-10:00 PM AMERICAN IDOL (Special Broadcast)

Tuesdays, beginning March 6:
8:00-8:30 PM RAISING HOPE (Time Period Premiere)
8:30-9:00 PM I HATE MY TEENAGE DAUGHTER (Spring Premiere)
9:00-9:30 PM NEW GIRL
9:30-10:00 PM BREAKING IN (Season Two Premiere)

Tuesdays, beginning April 10:
8:00-8:30 PM GLEE (Spring Premiere)
9:00-9:31 PM NEW GIRL
9:31-10:00 PM RAISING HOPE

WEDNESDAY
Wednesdays, beginning April 4:
8:00-9:30 PM AMERICAN IDOL
9:30-10:00 PM I HATE MY TEENAGE DAUGHTER (Time Period Premiere)
 
THURSDAY
Thursday, March 1:
8:00-10:00 PM AMERICAN IDOL (Two-Hour Episode)

Thursdays, beginning March 8:
8:00-9:00 PM AMERICAN IDOL
9:00-10:00 PM THE FINDER

Thursday, March 29:
8:00-9:00 PM AMERICAN IDOL
9:00-10:00 PM THE FINDER (Spring Finale)

Thursdays, beginning April 5:
8:00-9:00 PM AMERICAN IDOL
9:00-10:00 PM BONES (Spring Premiere)

FRIDAY
Fridays, beginning March 2:
8:00-10:00 PM  KITCHEN NIGHTMARES (two-hour encores for three weeks)

Fridays, beginning March 23:
8:00-9:00 PM KITCHEN NIGHTMARES
9:00-10:00 PM FRINGE

Friday, March 30:
8:00-9:00 PM KITCHEN NIGHTMARES (Season Finale)
9:00-10:00 PM FRINGE

Fridays, beginning April 6:
8:00-9:00 PM HOTEL HELL (Series Premiere)
9:00-10:00 PM FRINGE

SUNDAY
Sunday, March 4:
7:00-7:30 PM BOB'S BURGERS (encore)
7:30-8:00 PM THE CLEVELAND SHOW
8:00-8:30 PM THE SIMPSONS
8:30-9:00 PM NAPOLEON DYNAMITE (Season Finale)
9:00-9:30 PM FAMILY GUY
9:30-10:00 PM AMERICAN DAD

Sundays, beginning March 11:
7:00-7:30 PM THE SIMPSONS (encores)
7:30-8:00 PM THE CLEVELAND SHOW
8:00-8:30 PM THE SIMPSONS
8:30-9:00 PM BOB'S BURGERS (Season Premiere)
9:00-9:30 PM  FAMILY GUY
9:30-10:00 PM AMERICAN DAD

Matt Richenthal is the Editor in Chief of TV Fanatic. Follow him on Twitter and on Google+.

Tags: Bones, TV Listings
From Around the Web