Jasika Nicole Previews Astrid-Riffic Episode of Fringe
by Carissa Pavlica at .
Jasika Nicole took part in a Fringe conference call yesterday, and for good reason:
The actress will be featured in an Astrid-based episode of the Fox drama tonight, as Alternate Astrid is brought to our universe. What is Nicole's take on "Making Angels?" On the challenges of her character? Read on for excerpts from the interview...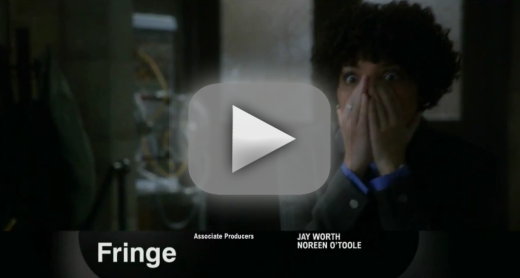 On which Astrid is the most difficult for Jasika to portray: After several months of playing Alt-Astrid, I would come home with a headache every day because she speaks so quickly and is so stiff. It's just not natural for me. She's the most fun and the most challenging, actually.

On what brings Alternate Astrid to our universe in the upcoming episode: She comes for a selfish reason. Something traumatic does happen to her and it's very personal. Her only option is to come here. I think maybe this Astrid is too afraid. I think the main reason Alt-Astrid comes here is because she wants to get some clarity. She wants to see this other Astrid be different than her and be emotionally available and different than her with the relationships in her life.

On the differences between the former Astrid and the Astrid in the Peter-less universe: In this universe, Astrid was more of a babysitter than a confidant. It made me wonder why Astrid was part of the team if she wasn't there to be Walter's shoulder to lean on. But, because she didn't have that close relationship with him she was the only person in this world who was welcoming to Peter. I just wasn't expecting that, but it worked.

On what kind of journey Astrid is on: I don't know what kind of journey this Astrid is on. Alternate Astrid is looking for solace. She has had a rough life. This Astrid has had such a charmed life compared to the other Astrid. She has taken that for granted because you never know how your live could have gone down. Seeing this other Astrid has given her some perspective on what could have been and how fortunate she is to have this life that she does and the people in her life.

On how the two Astrids need each other:
As for Alternate Astrid, knowing there is another version of her out there without these difficulties makes her excited and makes her want to seek her out to see how different her life could be. This Astrid needs the alternate Astrid to open up her eyes to let her know how fortunate she is to have these people in her life. As crazy as these people in her life are, they are her family and she's very fortunate to have them in her life.

On excitement over the friendship between Astrid and Olivia: She has this really lovely BFF relationship with Olivia that we never got to see before and I absolutely love that. Before, we would never see them hang out together, and I always wondered why. After all they're both really smart, have a difficult job and work with the same crazy people. But now I imagine she and Olivia go out for wine twice a month and I think they rely on each other a lot more than we have actually seen in any of the episodes.

On what affected Jasika the most playing against herself as the two Astrids: I've been waiting for four years for an Astrid centric episode and was giving up hope. When it  finally came, it became a bit overwhelming. Sometimes the most difficult things become the things that best serve you. There were at least two scenes when one or both of the Astrids were crying and it was very difficult to maintain that sadness through the long hours.

On why so many people cite Astrid as their favorite Fringe character: Because they don't know that much about her. Apart from the Observers she's one of the most mysterious persons on the show. This young, invested FBI agent who shows up every day with a smile on her face and I'm fascinated by that. They've had to create a whole story for her because she hasn't had one given to her.

On the slight difference between the former and new Alternate Astrids: One of my big wishes for Alt-Astrid was to see her outside work. I never intended for her to not be emotional at work, she just wasn't. Peter's familiarity with both Astrids set him up to treat her differently. Other Fringe team members don't extend themselves to get to know her. They just know her as this very smart, sort of weird person, but Peter put his hand on her shoulder and included her in a way that was very different for her and gave her an opportunity to interact in a way she never had before.

Return to TV Fanatic later this evening for my complete rundown of "Making Angels."

Carissa Pavlica is a staff writer for TV Fanatic. Follow her on Twitter and on Google+.

Tags: Fringe, Interviews
From Around the Web