Lost Girl Review: Sex is Never Just Sex
by Carla Day at .
While the Fae have highs, they definitely have miserable lows as well. And after being dissed by Dyson, Bo didn't want to get out of bed this week on Lost Girl.
I'm sure most of us have felt that way after the end of a relationship, though I'm not sure it would be that intense after just one date. And Bo wasn't the only one dealing with it.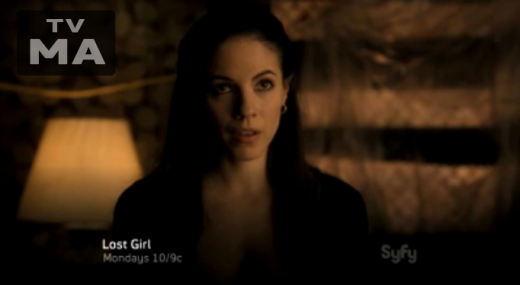 Dyson's decision to push Bo away was weighing on him, too. He got out of bed, but the perps around him probably wished he didn't. He overreacted and had three complaints in one week, including the broken arm we saw. That was definitely not a way for Dyson to keep his police job, which is essential to the Fae.

Kenzi convinced Bo to get face the world, but really, she probably would have been better off sleeping the depression away. Instead, she drank and sexed it away. The sex between Bo and Dyson may have been hot, but a three-some with Bo, a Fury, and her husband... wow! That was not a scene I expected to see on Syfy. Not that I'm complaining, it wasn't gratuitous, like on True Blood, actually fitting the story here appropriately.

Lost Girl is doing a nice job of slowly introducing us to the different types of Fae. This time, a case of jealousy went awry and people died. Though it really didn't play out at all as expected. It was a nice twist that Samir, the supposed cheating husband, was being stalked by a crazy woman. Yes, he did sleep with her once, but it wasn't a love affair, as his wife thought.

The wife's jealousy ended up stopping a serial killer. I never saw it coming that Jenny was the one that murdered Samir, did you? I really thought the wife did it until the last few minutes of her life. But Jenny? The procedural element of the series is my least favorite, but if the surprise twist continue that could change.

Here, a human was the culprit, not a Fae - a pleasant surprise. Jenny's reaction to Bo's touch was also a lesson that she needed to learn. She can't use her Fae powers on humans without repercussions.

In the end, "Faetal Attraction" left quite a few deaths to be cleaned up but they were all attributed to the human serial killer, and Dyson got commended at work. He even opened up to the police therapist about Bo.

But... what were they thinking? Friends with benefits? That is not going to end well! They both developed deep feelings for each other after one night together; this is going to be a disaster. And how is Trick going to feel about it? It is exactly what he told Dyson NOT to do.

Still, I can't wait to see how it develops. I love their interactions; the way they play off each other is fun to watch. What do you think about this new arrangement? Disaster? Think they can make it work?

Carla Day is a staff writer for TV Fanatic. Follow her on Twitter and on Google+.

Tags: Reviews, Lost Girl
From Around the Web