NCIS: Los Angeles Review: Happy Anniversary!
by Carla Day at .
Happy Anniversary to Callen and Hanna! I'm not sure why, but it seems like they have been together much longer than five years. At the same time, five years is a long time to work side-by-side with the same person.
In "Partners," the case of the stolen diplomatic shipment provided further insight into Callen and Hanna's relationship and what their future could look like. They have a trust that is unparalleled, even more so than that of Dunross and Clark.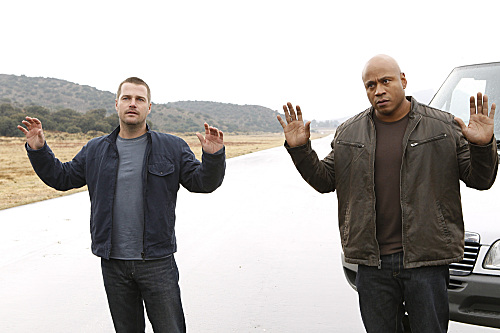 While Sam already has a family, Roger wanted that for himself, while Callen is all alone, just like Diane. They all lean on their partners in a way that transcended friendship and family - a unique support system. But could Diane or Roger have betrayed this partnership and turned to the dark side?

At first I didn't think so. I bought that the boss, Ed Gornt, was behind the illicit shipment even though both Diane and Roger acted a little suspicious at times. What I knew without a doubt was that even though the episode started with Sam hitting Callen, it wasn't real. There was no way that Sam would really try to kill Callen. It had to be an undercover situation that was going bad.

I'm getting  a little tired of shows using this plot device of depecting a future scene and then flashing back to the beginning. In this case, it didn't add to the story and I wish the episode had just started with the anniversary gift exchange.T hat is my only complaint.

The case was suspenseful and I didn't foresee the twist ending at all. Even Granger's appearance worked well. In fact, it was satisfying to watch his mistake unfold. Until Sam and Callen confronted the couriers at the end, he didn't have a clue what was truly going on. He had offered the wrong courier a deal; at least he was smart enough to not give immunity for the crime.

In the end, Diane pretended to be Roger to set up the deal. She worked with her boss to smuggle the ephedrine out of India. Roger was lucky that he was in a remote Malta town when it happened, otherwise, Diane may have gotten away with setting him up.

What a shame that she turned on her partner of 10 years because he wanted to make a life for himself and have a family. They weren't even romantic. It would've make a little more sense if she was a scorned lover, but to not want your partner to find happiness is just sad. How unfortunate that she decided to set her future up on money, rather than finding someone to share her life.

I don't see Sam and Callen heading down this path. Do you?

When Granger first showed up a couple episodes ago, he was universally disliked. Did you find this appearance less abrasive or do you still hate him?

Carla Day is a staff writer for TV Fanatic. Follow her on Twitter and on Google+.

Tags: NCIS: Los Angeles, Reviews
From Around the Web