"Politics" is all about the things we go through to make our dreams into realities. The games, the truths, the lies. Everything plays a part, but what matters in the end is how you handle the desires of those you love.
Adam and Crosby
It clearly shows my age, but I absolutely loved that Crosby and Adam were in a used record store with real record albums. I used to love thumbing through the vinyl. There was an almost magical feeling to it. This is something that this generation and their digital music will never experience, especially on the marketing side. To wit: Led Zeppelin (look them up on Wiki, people!) had an interactive experience wherein the black and white cover revealed actual colors when you used a brush and water.
So this was a perfect place for the brothers to be hanging out.
Crosby and Jasmine
They've finally reached the end of their road as a couple. They will always share parenthood of Jabar, but with Jasmine moving in Joe and Crosby willing to let the past remain there, a new future can be found.
I think they will always love each other, but they know they know a relationship would never work. Crosby's continued growth as a character supported his decision to let her go and move his son into a home with Jasmine and Joe.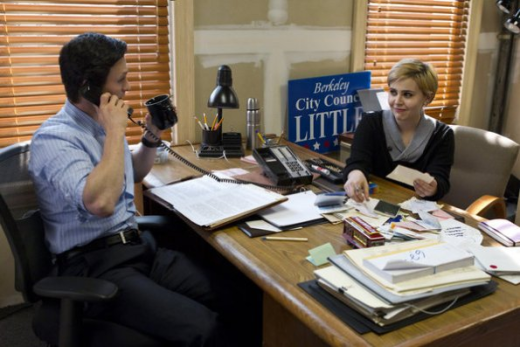 Amber
Amber was promoted to Bob's assistant. Kristina tried to make it a surprise using the "you might be fired" approach, but after the last episode and how close Amber and Bob became, we knew there was no way he would allow that to happen. The disappointing part of this story is that Amber doesn't know if she got this promotion on merit or because of his obvious attraction to her.

Amber freaked out at the possibilities of what that might mean, and asked him straight up when he delivered her soup for a fake illness if she got the job because he wanted to sleep with her. Turned out that he wanted to promote her and kiss her for the same reasons. I can't think of a better arrangement: Truth. How rare is that?

Sarah and Mark
Sarah and Mark are saying I love you without thinking twice. They're looking at old yearbooks and exploring the past. This is done in preparation for a big family meeting between with Sarah and Mark's family. He had a girlfriend all through high school and college and bad feelings were pouring out as I imagined Sarah meeting them all.

How in the heck did Camille know that Sarah and Mark were talking about having a baby? That would have been the last topic I would have pulled out of the hat. Maybe marriage, moving in together, but baby? I guess that shows how much I know how much I know about mother's intuition.

I didn't buy that Sarah should feel out of place with Mark's friends. He had friends of every available ethnicity, but having an older girlfriend would somehow throw a wrench into his lifestyle? He obviously has no societal issues weighing him down, and I found it a bit upsetting that she went into it with some sort of preconception of what would happen. That was unfair to Mark and his friends.

Sydney and Zoe
Being a little girl, Sydney was talking to Zoe in a little girl way that frightened the heck out of her. So much so that she quit her job and moved out of the Graham house. Yes, we get it. Girls giving up their babies is difficult. But this crap where they constantly portray in entertainment (entertainment!) that a birth mother always has last minute jitters gets old. Could a better family possibly come along for a baby if you had one you weren't certain you could raise on your own?

With the Grahams, there would be no doubt that your ties could be intact for life, should you so choose. Zoe walked into the perfect set-up for a girl in her situation. Instead, she is wishy washy and repeatedly leaving Joel and Julia to think the worst. I'm about done with this storyline. Either commit or walk away. The pain Zoe is putting them through is not worth the drama.

While Zoe assured Joel that her stance hasn't changed, I doubt we've seen the last of this scenario before, during or even after their baby's birth.

Carissa Pavlica is the managing editor and staff writer for TV Fanatic. Follow her on Twitter and on Google+.

Tags: Parenthood, Reviews