The Big Bang Theory Review: A Painting and Basketball
by Carla Day at .
How crazy was that picture that Amy got for Penny? What would you do if you got a gift like that? Wow.
Amy's sentiment was spot on, but the gift... not so much. When we first met Amy she was annoying, but through her friendship with Penny and Bernadette she has opened up and become sociable.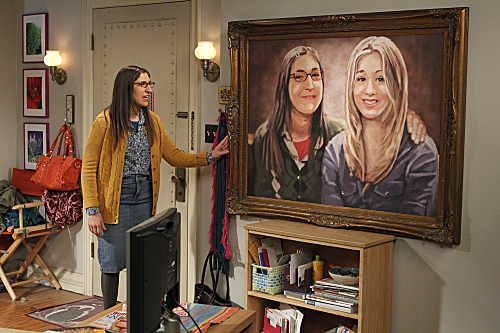 Amy may not be the mousey wallflower anymore, but she certainly still has a unique charm. Yes, that's a nice way to say she can be odd and even creepy at times. Her infatuation with Penny has always been off, but after being friends for this long, she needs to get over her Penny crush. It is past any inkling of cute.

Given the manly interpretation of Penny in the painting, I can only imagine what the original nude version looked like. At least Amy realized that was over the top, which is a step in the right direction.

While Penny and her friends will continue to have to look at the piece of art, it was thankfully placed off camera so we won't be bombarded with it each week! I was a little disappointed we didn't get to see a reaction from any of the guys, in particular Leonard.

While the girls were dealing with the painting and watching Grease, the guys were occupied with a competition for the newly vacant office at the University. After practically assaulting President Siebert at the urinal, Sheldon and Kripke were left to settle the office battle themselves.

I've mentioned before that I haven't really enjoyed the Kripke character, but both times he has appeared this year have been great. At some point, I need to go back and watch some of his earlier appearances and see if his character has been toned down, better utilized, or I've just grown used to him.

The decision to settle the office battle through basketball was ... brilliant. The mention of Rock, Paper, Scissors, Lizard, Spock was the perfect callback, but even better was Sheldon explaining the game over and over and over again. Kripke should have won the office just for tricking Sheldon!

Did Leonard not realize how bad Sheldon and Kripke would be at basketball? The never-ending battle - where neither participant could win! Everyone can at least bounce a ball, right? And, with that, Sheldon was the winner. Or was he?

He had more problems with that office than different methods of trying to win the office. If the previous occupant was anything at all like Sheldon, perhaps it was the office that made him lose his marbles ... and clothes! The office made Sheldon crazy - the freezing temperature, a hole in wall, wind chimes, singing birds and a noisy geology lab upstairs.

How long with Sheldon last? Well, that is if he ever gets his head out of the wall! Butter, anyone?

"The Rothman Disintegration" wasn't one of my favorite episodes, but it definitely had funny moments. Check out some of the best The Big Bang Theory quotes from it now. Then, stop back and answer this: which was creepier: Sheldon and Kripke in the bathroom with President Siebert or Amy's painting? What's your take? I still can't decide.

Carla Day is a staff writer for TV Fanatic. Follow her on Twitter and on Google+.

Tags: The Big Bang Theory, Reviews
From Around the Web