American Idol Review: So Many Years, So Many Ballads
by Miranda Wicker at .
Last week, the American Idol contestants paid tribute to Whitney Houston and Stevie Wonder. This week, they're dazzling us with music from the years they were born. I suddenly understand why my favorites in this competition are my favorites. Two of these contestants were born in 1994 and two of these contestants were born in 1995. Which makes me almost old enough to be their mother. Ouch, Idol. My favorites don't make me feel so old.
Ryan leads with the teaser that one of the contestants will be going home tonight instead of tomorrow night. Producers aren't attempting to spin the reason for Jermaine Jones' ouster into something positive, which is refreshing. Ryan says we'll learn more about that later.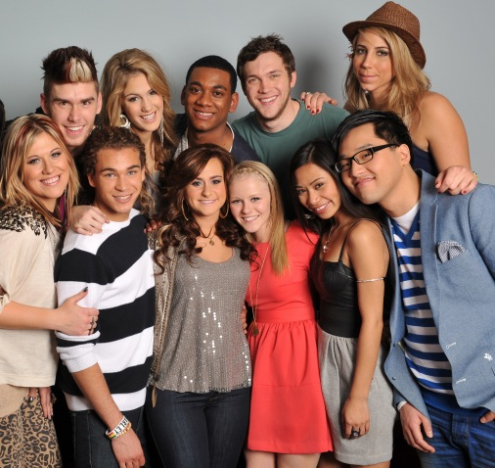 Phillip Phillips leads the night singing "Hard to Handle" by the Black Crowes from 1990. He tells Jimmy and guest mentor Will.I.Am that after his practice he has to go have surgery to have kidney stones removed because his right kidney isn't functioning. OUCH. And? Sympathy vote. Not that he needs it. He takes the stage without his guitar but jams with a piano and gives a great performance to start the night. Randy is amazed that he did that well given his recent surgery. J.Lo says Phillip seems to feel his songs in every cell of his body. Steven's advice is to watch the melody, but otherwise says it's a great job. I think Phillip won't suffer from having been the lead tonight and he's set the bar high. 4/5

Singing Gloria Estefan's 1995 hit "Turn the Beat Around," Jessica Sanchez is up second. She's apparently always been a bit of a diva. (Can't say I'm shocked by that one at all, really.) Will.I.Am and Jimmy love her practice round. I'm not loving her performance. She's incredibly distracted by her hair and, while she hits the lyrics, it's just not a fantastic song choice to show off her vocal talents. Steven says she needs to stick closely to ballads. J.Lo, the ultimate Latina diva, says her syncopation was off with the rhythm and this wasn't her favorite performance. Randy says the judges need to "stir" her in the right direction since she's one of the best singers in the competition and that this song choice wasn't great for her. I think she's safe, but I agree with every word the judges said. It wasn't spectacular. 2/5

Heejun Han takes us back to 1989 with the Richard Marx classic "Right Here Waiting For You." Will.I.Am wisely counsels him to enunciate and not drop the final syllables off his words. Then Heejun asks for Fergie's digits. This performance is a total snoozer, just like every other song Richard Marx ever released. (Which was what, one other song?) Randy says the song was boring and this wasn't a great performance. He recommends Heejun stick to R&B. J.Lo says the song got really beautiful toward the end. Steven said Heejun "stepped way outside his circle" for this one. I think J.Lo got it right--the song was beautiful toward the end. When it was over. 2/5

Coming at us from 1983, Elise Testone is singing Tina Turner's version of "Let's Stay Together." Will.I.Am suggests she smile a little. Elise says that when she takes the stage tonight, "people are going to be making babies." I...uh...this is a family show, Elise. This performance is the reason Elise Testone deserved to be saved last week. It's not high-energy, but it fits her like a glove vocally. Steven says her rasp is so natural, and J.Lo says she showed America who Elise is. Randy says "Elise is back." And she is. She picked a song in her wheel house and made it work. If she can keep doing this, she'll be one to watch. 5/5

DeAndre Brackensick was born in 1994 and has decided to sing "Can You Feel the Love Tonight" by Elton John for The Lion King. Bad song choice #1. Will.I.Am and Jimmy switch him to "Endless Love" after comparing his first song choice to a tennis racket in the hands of a carpenter. Bad song choice #2. I didn't love his performance. It wasn't the worst of his performances I've endured, but it wasn't fantastic. J.Lo says he can sing anything and that he sang that beautifully, but thinks Jimmy and Will.I.Am steered him wrong with the song choice. Randy says his song was boring and way too safe. DeAndre didn't seem confident or comfortable with the song choice and I think it showed. This could be his swan song. 1/5

Another 1995 baby, Shannon Magrane, listens to "Don't Speak" by No Doubt before settling on "One Sweet Day" by Mariah Carey and Boyz II Men. Will.I.Am tells her to practice the song lying down to get her breathing right. Does he expect her to perform lying down, too? Shannon doesn't hit the sour notes she hit last week, which is great for her, but she's pushing too hard. J.Lo says she was terrified for Shannon but thinks Shannon did a great job. Steven says she sings her best when she's not trying so hard. Randy says he was also terrified, but Shannon is fearless and, "considering the mountain she was trying to climb," she did a great job. That's a backhanded compliment if I've ever heard one. Shannon has talent and can definitely sing, but she's aging herself with her song choices. No Doubt would've been a better, younger choice even though the songs came out the same year. 2/5

Colton Dixon chooses White Lion's "Broken Heart" from 1991, and it's a song nobody knows. Will.I.Am tells Colton that White Lion didn't even know the song, so Colton has no choice but to make it his own. He suggests making it more hard rock and Colton agrees. It was a good choice. While it still sounds decidedly like early 90's rock with a little modern alt-rock mixed in, Colton actually performs the song instead of just singing it, which is what sets him apart from the others. J.Lo said Colton's a lover which makes him relatable. She also thinks he looks pretty when he sings. I'm thinking she's been wooed by the Eye-Sex. Steven said it was the wrong song for Colton's voice and passion. Randy said the song didn't matter and his performance was "dope." I enjoyed Colton's quasi-throwback. It's clear that Colton feels comfortable on the stage and that translates into a solid performance. 5/5

Erika Van Pelt is singing Bryan Adams' "Heaven," or something like it. She says she's happy to get back to rock. Will.I.Am seemed nervous for her. I was kind of happy when her performance ended. Steven said she "was too busy all over it" and the audience booed him. J.Lo said the arrangement left her wanting more. Randy said it was an 8 out of 10 for him, but that the arrangement was "catchy" and "jerky." The judges, all three of them, haven't been more correct tonight. That arrangement was all over the place and didn't do Erika any favors. I wanted to like it, and I'm all for contestants taking risks and changing songs to suit their personal style, but when you have such an iconic song like that, it's hard to fix what isn't broken. 2/5

Ryan confirms that one of the contestants will be leaving the competition due to information that has recently surfaced "thanks to the help of law enforcement." That contestant is Jermaine Jones. We see footage of Jermaine sitting down with Idol producers Nigel Lythgoe and Ken Warwick, and they tell him that the charges against him are typically youthful indiscretions and they wish he'd been more forthcoming with them. They reiterate that they aren't allowed to have anyone with outstanding warrants against them on the program, but he has four. Nigel and Ken tell him that his practice performance was the best song of his they've heard and they're sad to see him go. We get to see footage of Jermaine at practice (which was a mere hour before he found out he'd be going home), and just like that, Jermaine's out.

Skylar Laine picks Bonnie Raitt's "Love Sneaking Up On You" from 1994 and Jimmy doesn't feel like there's enough song there for her. He and Will.I.Am throw song after song at her, including "Gangsta's Paradise," but Skylar sticks to her guns and Bonnie Raitt. It's the right choice. Steven loved it. J.Lo said she killed it. Randy said "good on her" for doing so well.  No, she didn't get to show off a crazy vocal range on the song, but Skylar did her thing, and in doing her thing, she's proving that she knows who she is as an artist which is more than some of the other girls her age can say. 4/5

The state of Louisiana sent their hero Josh Ledet an entire tub of crawfish. Maybe more crawfish than I've ever seen in my life and certainly more crawfish than one person could even conceive of eating. Which is completely unrelated to his performance of Michael Bolton's "When A Man Loves A Woman" from 1992 but is equally as crazy. All three judges are on their feet halfway through the performance and I'm just sitting her scratching my head. Randy said it was phenomenal and incredible and credits his awesome performance to the crawfish. J.Lo said it was "the best thing she's ever seen on American Idol." He churched up Michael Bolton, y'all. I just cannot wrap my head around this, nor can I imagine him as a contemporary artist. I'll give him credit for being talented, but I can only take so much Mantasia. 5/5

Hollie Cavanagh closes the night with Celine Dion's "The Power of Love" from 1993. Will.I.Am wonders where she's got all that power hiding. She schools every other female contestant in the competition in what it means to be a powerhouse performer. J.Lo and Steven said she had one or two pitch problems but commenting on them would be silly. Randy said she "blew it out 'da box." And she did. And she does. And no doubt, she'll do it again. But here's the problem--she's painting herself into a corner of only being able to sing ballads. Hollie needs to pick up the tempo next week and show some versatility. 4/5

It's clear that Hollie Cavanagh and Josh Ledet are the runaway winners of the night. The judges were so overwhelmed by Josh's performance they seemed hard-pressed to find words for Hollie's. This is the kind of week that really drives the point home that song choice is everything. When you're not limited to the songs of one particular artist and can choose from an entire year's worth of songs, it's incredibly easy to pick a great song, and picking a great song is about more than just picking a song you loved listening to when you were growing up, which is what I think a couple of the contestants did, namely Shannon and Jessica.

Also, ladies and gentlemen, enough with the ballads. Listen to what's playing on the radio right now and try to make yourselves current.

My top picks for the night are Phillip Phillips, Colton Dixon, Skylar Laine, and, reluctantly, Josh Ledet. I think a combination of Shannon Magrane, Heejun Han, DeAndre Brackensick, and Erika Van Pelt will make up tomorrow night's bottom three.

Who had your favorite performance of the night? Least favorite? What do you think of the way Idol producers handled Jermaine's elimination from the competition? Do you think we'll get another surprise twist tomorrow night and find out that no one's going home because of Jermaine's elimination?

Miranda Wicker is a Staff Writer for TV Fanatic. Follow her on Twitter.

Tags: American Idol
From Around the Web