Last night Ryan revealed that the judges will have the final say in who's eliminated tonight after he reveals the guy and girl who each received the fewest number of votes following last night's live show.

Mary J. Blige and Lauren Alaina will also be performing tonight. But not before the group sing. (Editor's note: The group sing is my... well, I think they're really awkward and often hilarious, especially the medleys.)

We'll also get commentary from mentor Jimmy Iovine regarding each contestant's performance. Without further ado, let's find out who's leaving the competition first.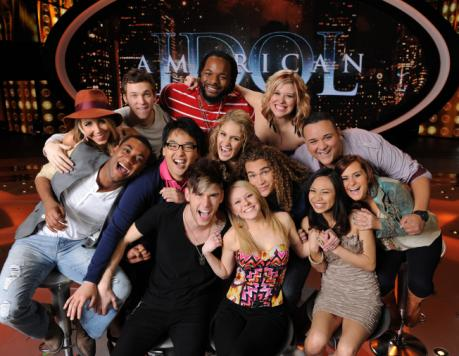 In past years, I've been downright convinced that the contestants are lip synching during the group sing. Tonight, I feel like Idol's trying to bring it. They've added choreography. The contestants weren't completely awkward. It was a group sing miracle! Except Colton's usual Eye-Sex bordered on stalker-creepy and Phillip's bizarre body contortions are amplified when he's not behind his guitar. And Erika Van Pelt wore animal print pants, which kind of makes me chuckle. Get it? Van PELT wearing animal print pants?

Okay, moving on.

Elise Testone, Hollie Cavanagh, and Jessica Sanchez are up first. According to Jimmy, Elise got hit with the Whitney stick (what does that even mean??), Hollie was fantastic, and Jessica's performance was perhaps the best in American Idol history, but she sometimes gets overconfident and "believes the applause" before she's finished singing.

Hollie and Jessica are both safe and Elise is in the bottom three. And Jimmy just articulated what it is about Jessica Sanchez that bugs me. She believes her own hype a little before she should. That sort of overconfidence comes off as cocky, so when she's acting flattered that people like what they're hearing, it seems false. At least to me. It's one thing to be confident in your abilities (Shannon's a good example of this) but it's quite another to think you're the best and carry yourself that way.

Heejun Han, Colton Dixon, and Jermaine Jones go first for the boys. Jimmy thinks Stevie Wonder songs show all of Heejun's flaws, Colton took great direction but hasn't "found his truth yet," and Jermaine lost his battles with both tuning and feeling. Again, Jimmy's spot-on with his assessment. Heejun isn't the strongest singer in the competition, so slow, droopy ballads are going to give him some difficulty. Colton is definitely a rocker, but what kind of rocker? Jermaine's just a hot mess.

When Ryan asks Jermaine whether he disagrees with Jimmy, he picks at his beard and can't give an answer. And then Ryan tells us America loved Colton's performance last night but I think they just love Colton and not necessarily his performance. Heejun is also safe. Jermaine is headed to the stools with Elise.

Erika Van Pelt, Skylar Laine, and Shannon Magrane face their fates next. Jimmy says Erika's problem is in her presentation, but she did a good job with the song and Shannon's nerves got the best of her. He said he likes the nasal quality to Skylar's voice even though J.Lo doesn't. Regarding Erika, I disagree with Jimmy. I think she did a great job with the song, but I think what stilted her presentation WAS the song. She was a wedding singer. She knows how to work and connect with a crowd. The song just didn't let her do that.

Erika's joining Elise in the bottom three for the girls and so is Shannon. Skylar's safe for another week. I totally called this trio as the bottom three girls in yesterday's review, even if I didn't want to see Elise or Erika there. I think the fact that they sang so early in the night coupled with the fact that Hollie and Jessica sang so close to the end did them no favors.

Josh Ledet, Deandre Brackensick, Phillip Phillips and Jeremy Rosado are the last to learn how America felt about their performances. Jimmy said the concern with Josh is that people can get bored with his voice after awhile, but Deandre was a "pleasant surprise," while Phillip is great vocally and instrumentally but may get overshadowed by the girls in weeks to come, and Jeremy didn't deliver on the Stevie Wonder ballad and could find himself in trouble. I really can't disagree with Jimmy on any of his comments here. Josh is certainly comfortable where he's at and where he's at won't sell pop records. Deandre is way more likeable when he's having fun (but please, kid, enunciate!!!). Phillip will get overshadowed vocally by the girls as the competition goes along but will still gain the popular votes needed to carry him through. And Jeremy, as much as I like him and think he's a super sweetheart, just doesn't have the chops to hang around much longer.

And then we rapidly learn that Phillip is safe, Jeremy's headed to the bottom three, and Josh is joining him. But not for long. He and Erika are headed back to the couches leaving us with a bottom four of Jermaine, Jeremy, Shannon, and Elise.

Ryan asks the judges who they think deserve to go home tonight. Steven's the only one to give an answer and he says Jeremy. Ryan reveals that Jermaine is safe meaning Steven's a little closer to being right. Shannon's safe, too, leaving Elise and Jeremy as the bottom two.

The judges deliberate during a commercial break and upon returning J.Lo sadly announces that they're saving Elise. Her Jer-Bear is going home.

America and the judges got this week's elimination correct. Sending Jeremy Rosado home was the right call.

What did you think? Do you think they should have sent Elise home instead? Did you agree with Jimmy's commentary or disagree?

Miranda Wicker is a Staff Writer for TV Fanatic. Follow her on Twitter.

Tags: American Idol