The NYPD's "No Questions Asked" Gun Buy Back program certainly left us with lots of questions on Blue Bloods this week. Do you bend the rules to follow the law? Maybe.
The good samaritan who fought for the weapon in the pharmacy robbery was an idiot. Was he planning on battling all three armed men? What was he thinking? He got lucky the bad guy pulled the ski mask back on quickly. I think the mean one would have shot everyone in the place if he thought they could have recognized one of them.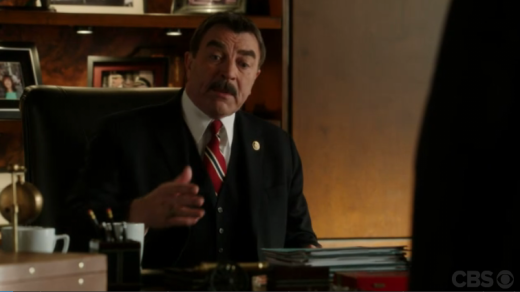 I liked that they briefly discussed the pros and cons of the program. Apparently they get so many old guns they quipped that it's like an episode of the Antique Road Show. Of course, some of those guns have been used in crimes, like the Colt 45 in question.
I understood why Officer Perez took that picture. As a cop, her first instinct was to catch bad guys and she thought she had one in front of her. That's a hard instinct to fight. I was even more impressed with the sneaky way she took the photo and then moved it to her trash when Reverend Potter confronted her. The girl was fast.
Frank's punishment fit the crime. She broke the rules and the consequences could have derailed the entire program. But her actions didn't make her a bad cop. In essence, she did the wrong thing for the right reasons.
Again, Garret was a stand out. His banter with Frank and Reverend Potter was spot on. He managed to not back down and get his point across with enough humor to keep things interesting. He's quickly become one of my favorite characters.
Nicky's side story was interesting and more than a little sad. That a teenage girl would embarrass herself for a little bit of attention wasn't nearly as surprising as I wish it had been. It's a strange world.
When Nicky lamented her failure to stand up for her friend, Jamie reminded her of what her grandfather would say about that in one our Blue Bloods quotes…
It's what you do next that counts. | permalink
And even though Frank wasn't the one to say it, he certainly followed the advice as he dealt with the Officer Perez situation. Specifically how he handled the mayor and Reverend Potter with honesty and just enough manipulation to keep them out of a tricky situation. He gave them the option of more information but let them see that knowing more could only hurt them. Very smart.

Frank and Danny's conversation about what kind of cop they've been was enlightening, as Frank attributed their success more to luck than skill. He's worried Danny's luck will run out.

The Reagan family dinner was much too short. It made me miss Danny and Erin's bickering from the last episode but I suppose you can't fit everything into an hour. I'll just have to hope for more next week.

C. Orlando is a TV Fanatic Staff Writer. Follow her on Twitter.

Tags: Blue Bloods, Reviews
Want more Blue Bloods?
Sign up for our daily newsletter and receive the latest tv news delivered to your inbox for free!
More From TV Fanatic
It's select ensemble vs. elite in a dance rematch this week on Dance Moms. Who came home with the victory? Read on to find out!
On tonight's Tyrant, Jamal and the Sheik meet for negotiations. Will they come to an agreement?
It's time to reunite on The Real Housewives of New York City. Read all about this special episode now.
Who can be trusted? On tonight's Covert Affairs, it's clear that it's important to trust others, but also a huge gamble.
---