As I've said for probably half of my reviews of Ringer, I never saw it coming. And unlike last week, the twists and turns in "What We Have Here is Worth the Pain" had me on the edge of my seat...
Andrew's nasty side. Since the majority of what we've seen of Andrew this season has been him romancing Bridget, it came as a bit of a shock to see him threaten to kill Siobhan via flashback. I couldn't blame Siobhan for being scared. He looked damned serious.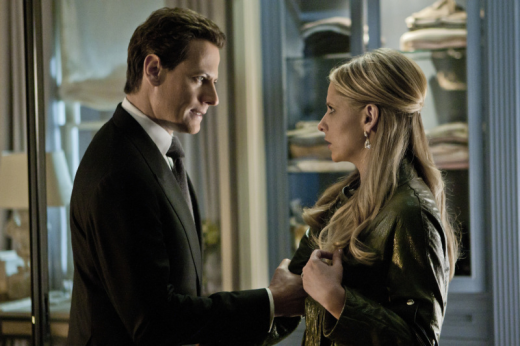 But did that mean he actually hired a hit man? It could have been Olivia behind the assassin. I honestly couldn't say either way, but Siobhan was obviously convinced her hubby wanted her dead.

The moment of truth. The most shocking scene for me took place when Siobhan came clean with Henry. Well, mostly. She told him more of the truth than I thought she ever would but I suppose Tyler's death limited her options. She needed an ally and that role has fallen to Henry.

Of course, she didn't tell him he's most likely NOT the father of her twins. That would certainly put a damper on things.

The other thing that surprised me was that Henry seemed perfectly fine with Siobhan setting her sister up to die yet again. It's one thing to know what happened in the past, but now Henry was actively participating, as his text messages kept Bridget away from the office so that Siobhan could threaten Andrew. It made me wonder what Henry's truly capable of.

The hero returns. Just when I was about to write Andrew off, he found Bridget and professed his undying love. He wanted to work things out, no matter what. That doesn't sound like a man who hired someone to kill his wife. Nor does jumping in front of a bullet to save her.

Across town, poor Juliet couldn't catch a break. She truly is a naive high school girl if she so easily handed out her cell phone to the cute guy who accosted her by the elevator. Thankfully, she quickly learned he didn't just have an air of danger. He was downright deadly. 

Now she knows just how twisted her mother is and it sent her running to Bridget. Unfortunately, Bridget was busy running out the door in the hopes of finding Malcolm.

So where the heck is Malcolm anyway and who killed Tyler? Will Andrew survive? What will Siobhan do when she hears Andrew jumped in front of a bullet to save her sister? Were you able to hang on for all the twists and turns on this week's Ringer?

C. Orlando is a TV Fanatic Staff Writer. Follow her on Twitter.

Tags: Ringer, Reviews
Want more Ringer?
Sign up for our daily newsletter and receive the latest tv news delivered to your inbox for free!
From Around the Web
More From TV Fanatic
It's getting crazy on Gang Related! Lines are being crossed by gangsters and officers, is anyone in the right?
On Rookie Blue, Andy assists Sam in a missing persons case. Elsewhere, an undercover operation to track down illegal handguns sends Chris scrambling to maintain control.
Join us for the rewatch of Gossip Girl Season 2 Episode 9 "There Might Be Blood." What did you think of this episode?
Duck Dynasty Season 6 Episode 5 was all about re-branding. Read on for our latest rundown.
---