One thing I know about life as a teenager: the prom is never boring.
On "Venus, Cupid, Folly, and Time" it was the Carlton prom and Emmett and Daphne were excited to ask their dates. Of course, given that this was the spring finale of Switched at Birth, you knew things would be taken to a higher level of intensity than normal.
There is something to be said for the executives at ABC Family, they sure know how provide content that can keep a viewer hanging. Oh, and did I mention that Angelo's back?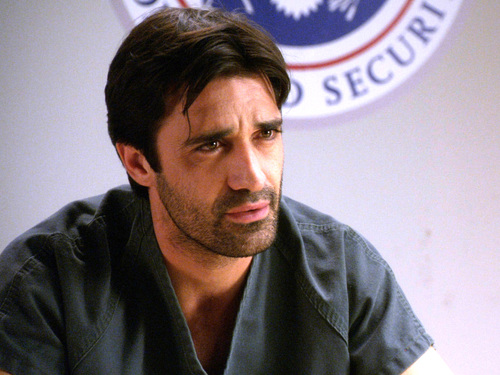 For anyone else, it would be hard hard to look that sexy in jail, but this ia Angelo. I always knew he was shady, but tonight when he basically asked Bay for money and allowed his child to feel like nothing more than a piggy bank, I really started to get pissed at him. Haven't both of his daughters endured enough?!? I don't blame Daphne for really not wanting much to do with him.

Elsewhere, Regina has finally given in to liking a new man and Mr. Art Dealer seems good enough to me. But, of course, just like clockwork, the minute you allow yourself to move on from your ex he pops up in a bigger and bolder way than before. A green card marriage seems pretty on par with extremely big and bold.

This puts Regina in a crappy position because it's not just about her, it's about Bay and Daphne's best interest. Otherwise, I think she should pretty much go tell him to fly a kite... in much harsher terms. That phrase has always seemed laughable to me, but we all know it's the G-rated version of saying to some "GFY." Angelo is selfish, plain and simple. He is toxic to their lives.

This episode just goes to show how much the past can come back to haunt us. Of course I'm mostly referring to the Emmett and Simone's one night stand. I knew Wilkie would end up spilling the beans to Daphne. It was too big of a secret for him to keep. Honestly, I'm glad he did tell Daphne. She is a pretty rational person and she knew how to handle it.

She also knew, like any best friend would, that Emmett had lied to her face. I appreciated the fact that Daphne didn't accuse or lecture Emmett, but rather asked him simply and directly. She didn't make it dramatic; she asked, she got an answer and she apologized for the inconvenience. This made Emmett feel guiltier than he already did since he blatantly lied to his most trusted friend. 

I'm glad he told Bay. She deserved to know. I only hope that Toby gets pulled into the loop. Relationships shouldn't be based on lies. Will Bay forgive Emmett? We'll have to wait for the show to return to find out.

We also have to wait to find out if Colleen is at all a reliable witness. She had some good points underneath the crazy. Will Kathryn tell John they need a new lawyer after the almost-kiss? Is it not worth mentioning if he's still the best person for the job? 

Some other questions: Now that Wilkie is off to boarding school on The CW with Carrie Bradshaw, will Daphne perhaps find a new love interest? Last but of course not least: will Regina consider the sham marriage? Tonight left us with a lot of question marks. Hit the comments and return June 5 for answers.

Leigh Raines is a TV Fanatic Staff Writer. Follow her on Twitter.

Tags: Switched at Birth, Reviews