Although tonight's Hart of Dixie episode is titled "Heart to Hart", the most significant development had nothing to do with Zoe and her Dad, Ethan.
No, the biggest revelation had to do with a drunk Lavon finally giving into his inhibitions and the emotions he's been harboring for Lemon and giving her the smallest of pecks.
With George catching them.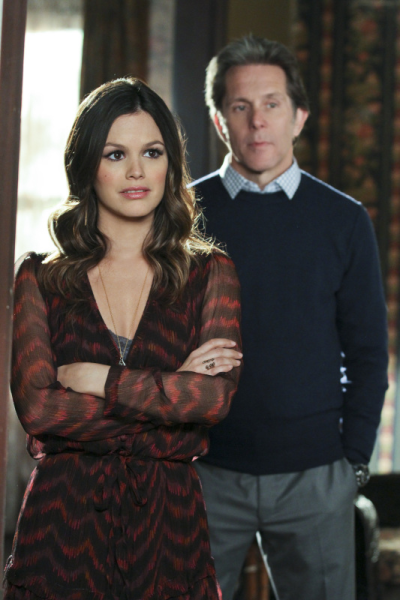 Can I just say finally? We've been waiting and waiting for something to finally move forward between them after months and months of whispering and do-nothings.

I've been critical of Lemon and Lavon in the past for not showing any sort of chemistry, yet it's something we're being forced to think they have, but tonight I finally bought it. The two of them absolutely clicked in that small moment.

Plus, I can't wait for George's reaction. We've begun to see his anger at the things Lemon does begin to bubble up more and more, especially as Zoe's feelings for him escalated. I'm glad he's begun to take off his rose colored glasses with Lemon and her constant manipulation and scheming.

Lemon is so focused on pushing and shoving Zoe out of George's path that she's going to end up pushing George right towards her. Lemon is getting very, very old, and it seems the only way she might ever see the consequences of her actions is to hit rock bottom.

Ethan and Zoe were mostly awkward as they weren't sure where or even if they should restart their relationship, but all of it began to come together as Zoe poured her heart out to him and Ethan stepped back into his protective father role as he grilled George.

That scene between Ethan and George was absolutely fantastic. Ethan is giving George the "what are you intentions with my daughter" speech and George is caught off guard over it. As the conversation builds and goes on you can begin to see the flashes of realization on George's face as he realizes what Ethan is talking about, and maybe even his own growing feelings for Zoe.

Finally, there's Wade. The poor guy just hasn't really had much of a direction for the entire series other than having growing feelings for Zoe.

While I love the scenes the two of them share, it's time we begin to see what his goals and dreams are that do not involve Zoe. Kudos to Lavon for putting the idea in his head that he can use the skills he thinks aren't worth much to do something with, and make a living out of it.

All in all, tonight's Hart of Dixie really sets the ball rolling for the rest of the season, and I can't wait to see how it all plays out.

Other thoughts:

Nick McHatton is a TV Fanatic Staff Writer. Follow him on Twitter.

Tags: Hart of Dixie, Reviews