After a long hiatus, Law & Order SVU returned with a new installment that's was dramatic as it was frustrating.
"Justice Denied" explored the controversial issue of false confessions. Benson once again took center stage in the unfolding drama of a possible coerced confession, and unfortunately, didn't come across as the good guy. 
Surprisingly, the phenomenon is much more common than one would think. It's scary to think of how many people continue to sit in jail like the angry and frustrated Omar Pena.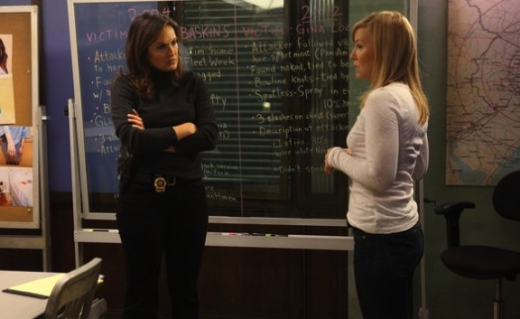 The big issue with Pena's confession was that Benson was the one who got it out of him ... after nine hours of questioning. Despite the ever-increasing evidence indicating that Pena might be innocent, Benson refused to consider that she might have made a mistake. She was very combative when Amaro suggested that sometimes even the best detectives can get too invested in certain cases.

Unfortunately, Benson's single-minded focus on Pena blinded her to the facts of the case. When she realized her mistake, she was incredibly disappointed in herself. But it didn't have to be that way.

Why does Benson always set herself up for these kinds of disappointments? Does she honestly think she's the only detective who hasn't pushed a little too hard on suspect?

Over the course of her very long career, we've seen Benson make errors in judgement. It was probably worse this time because someone spent nine years in prison due to her mistake.

Despite the episodes attempt to invoke some sympathy for Benson, I didn't feel sorry for her when she discovered the truth about Pena. It was Pena who deserved that sympathy, and I resented the fact that Benson was sort of made into a victim by the episode's end.

Ah, Benson. Without the shared star power of her former co-star Christopher Meloni, Mariska Hargitay is usually forced to carry the series. For example, last week's episode explored her still troubled relationship with her brother, and her romance with Haden has been the focus of a few episodes like "Official Story" and "Father's Shadow."

She's a strong actress, so it isn't hard to enjoy her scenes. However, I'm feeling a little bored with her storylines; perhaps, this break from her relationship with David will mean a break from Benson as well.

Yes, sadly, we've apparently reached the end of David and Olivia's relationship. Having failed to disclose their relationship, the two were almost exposed by Ellis. Fortunately, he was a good friend (but a poor lawyer) and gave Benson some time to find the new suspect.

Once they dodged that bullet, the D.A. placed another obstacle in their path. The conflict between their two jobs, especially with Haden reviewing her former cases, was too much of a burden. They both chose their careers over their elationship, and it was sad to see such an adorable couple flame out so quickly.

Is it the show's intention to continually make Benson miserable? Would she be somehow less compelling if she was actually happy?

On the bright side this week, I enjoyed watching Amaro not only stand his ground on the Pena issue, but also continue to support Benson when she began to doubt herself.

I definitely agreed with Benson when she said he was a good partner. Amaro has the kind of calming and logical presence that really balances out some of the more hot-headed detectives.

Tags: Law & Order: SVU, Reviews