At last, Modern Family has returned and it brought a pretty darn good episode our way! In "Election Day", the whole crew rallied around Claire as people took to the polls to elect the next councilperson.
As I'm sure you all remember, Claire decided to run for the town council when the current councilman ignored her request for a much needed stop sign in her neighborhood.
Never one to half ass anything, Claire went HAM in her efforts to win the election. Of course that meant recruiting her family.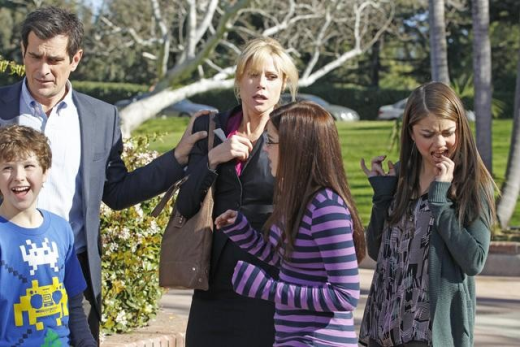 My favorite episodes are when Cam and Mitchell are on the same side and working together. Let's be honest, sometimes their bickering gets a bit tedious. It's also good to watch Mitchell cut loose because normally he's a little uptight, a typical Pritchett trait.

I knew the car loudspeaker would get them into trouble! At first I guessed it would be by one of the companies they insulted, but alas it was Lily's clueless nursery school teacher. Did they do her a favor if they were really sure her fiancee was gay? I suppose it was really none of their business. What can I say? That's what you get for gossiping!

Whatever, I'm not here to talk about what's right and wrong, simply just to enjoy Cam and Mitch in the wild. They were especially hilarious when they tried to clean up their mess with the teacher. If Hugh Jackman resisted Cam then he is obviously so straight, I mean duh. That's all the proof we need!

I can't believe Jay pulled the old love 'em and leave 'em trick on a woman after his divorce! Actually I'm not that surprised, he was totally in rebound mode. Besides if she hadn't held a grudge, we wouldn't have gotten to hear Jay utter a few phrases that got confused for sexual innuendos.

Gloria's panic about Claire's loss was totally on base. "I don't want to be around when something that tight unravels" was just one of the many Modern Family quotes that made tonight's episode hilarious. 

Claire's dental mishap and subsequent lisp on the radio show was comical. Phil's test of patience with the neighbor wasn't my favorite part, but you all know I love Phil.

In the end Claire lost the bid and she was comforted by none other than Haley. Haley was trying to hide her anxiety about the college rejections, but in the end she needed her mommy. For Claire, her role as a mother will always come before any town council position. 

Also, it led to a great high five moment between Claire and Phil over Haley's excitement about getting wait-listed. What did you think of Modern Family's return? Did it live up to the hype? Hit the comments!

Leigh Raines is a TV Fanatic Staff Writer. Follow her on Twitter.

Tags: Modern Family, Reviews
Want more Modern Family?
Sign up for our daily newsletter and receive the latest tv news delivered to your inbox for free!
More From TV Fanatic
On Perception, Daniel and Kate investigate an art heist. Also, Daniel must make a decision about his love life.
Things on Pretty Little Liars looked pretty darn bleak this week as Hanna's friends started to get sick of her but Zack couldn't get enough. Read the review for more insight into the latest installment!
Evan, Paige and Bob confront Russel about his rug theft, while Divya and Jeremiah treat a woman desiring to be a mom. But were those all the surprises the Hamptons had to offer? Read our review of "I Didn't See That Coming" now!
On Chasing Life, Leo makes wishes come true. Elsewhere, Brenna meets her other sister, discovering one more family secret. Read on for more!
---