Forget who you would take on a desert island for a moment. This week's episode of The Good Wife left me asking a different question:
"The Penalty Box" was the penultimate installment of season three? Really?!?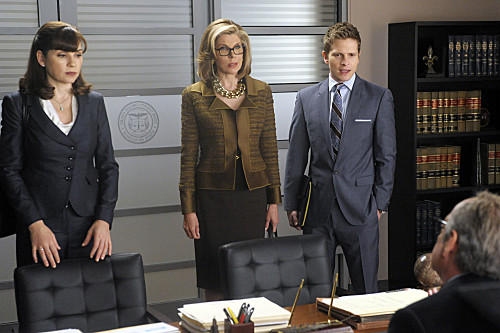 It was a quality hour of television, I'm not saying otherwise. Cary is back, which opens up a number of avenues, starting with wondering just why Peter called near the end.

And the standalone case of the week was one of the best in awhile. David Paymer stood out as the veteran judge who lamented his life as a poor father and, in order to clear his own name, a disloyal friend/colleague. It made Alicia question the morality of the occupation she has chosen, certainly an interesting tact for a show about attorneys to take. Diane and Will, and Cary for the most part, have accepted that it's necessary to do whatever one can to win a case.

But Alicia still struggles with the outcome sometimes. If you win for your client by destroying the life of a seemingly good man, did you really win?

But, overall, I felt far more of an anxious pull following last week's episode of The Good Wife than this one. The sight of Peter and Alicia back as a team, fighting against that meany Mike, left me dying to see what happens next.

So it was surprising to see the answer, when it came to the Gubernatorial race, was... nothing. No mention of it at all, no interaction between Alicia and Peter, no Mike sighting. (Semi-spoiler alert: next week's season three finale promo doesn't make it look like a focus, either.) It was definitely disappointing.

Instead, the show is shifting its season-concluding drama to the issue of Kalinda and Lamond Bishop. And while Mike Colter is downright scary as the latter, and while we were treated here to another sexy Good Wife scene (Kalinda and Lana followed in the hot footsteps of Alicia and Will, and Alicia and Peter, in their pin-you-against-the-wall-and-make-you-writhe maneuver), there hasn't been a great deal of build-up to this storyline.

One minute Kalinda has tax problems... the next we see her confront Lana... and then suddenly Bishop is involved, threats are made and the series latches on to this arc as its main cliffhanger. I'm not loving it. It feels a bit rushed/contrived just to get Kalinda in the spotlight.

So, yes, I'm glad Cary is back. And, yes, it was fascinating to watch Kalinda's steely demeanor broken for a change, as tears welled up in her eyes when facing off against Lana, actual tears, not ones used for any kind of manipulation. And I'm always happy to see Stephen Root guest star on any series.

But I can't say this episode made me especially excited for next Sunday's finale. What about you? Are you all in on Kalinda's arc? Or would you prefer the crux of the finale to return to Peter, Alicia and the race for Governor?

Matt Richenthal is the Editor in Chief of TV Fanatic. Follow him on Twitter and on Google+.

Tags: The Good Wife, Reviews
Want more The Good Wife?
Sign up for our daily newsletter and receive the latest tv news delivered to your inbox for free!
More From TV Fanatic
On Tyrant, Bassam attempts to find a peaceful resolution instead of a revolution. Will he succeed?
On tonight's Covert Affairs, Annie and Auggie switch jobs and head to Paris. Will Auggie succeed in the field with Annie as his handler?
Usually it's insults that get tossed around on The Real Housewives of New York City Season 6 Episode 20 but Aviva threw out a leg. Her own! On the dinner table. We attempt to make sense of the nonsense in our +/- review.
On Perception, Daniel and Kate try to track down a missing baby. Kate also must deal with Donnie's talks about their own future children.
---