The. Race. Is. On.
On Sunday's episode of The Good Wife, Peter Florrick accepted the challenge of Matthew Perry's Mike Kresteva, as these two will battle for Illinois Governor to close out season three.
With just one more episode to go until the finale, Round Table panelists Matt Richenthal, Carissa Pavlica and Christine Orlando have gathered below to breakdown "Pants on Fire." Won't you join them?
-------------------------------------------
What was your favorite scene from the episode?
Matt: When Peter told off his mom. Damn! I did not see that coming. With all due respect to Dr. Bruce Banner, Peter Florrick is the man I do not want to make angry.

Carissa: Alicia telling off Jackie in the first scene. It didn't make me feel sad in the slightest that the sorry old bitch went and had a stroke afterward.
Christine: It was hard to choose just one this time but I think I'll go with Alicia confronting Mike in his office and him lying through his teeth and acting like she was crazy. It's as though we've found the evil version of Chandler Bing. Mike is either a brilliant liar and manipulator or certifiably insane. Maybe a little of both.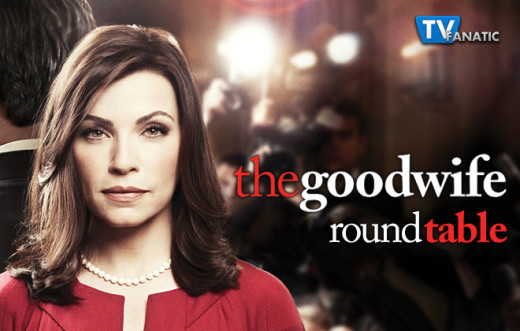 Is Alicia making the right move in standing by Peter?
Matt: No. Because she's doing it for the wrong reason: emotion. Just like a woman, eh, guys?!?!? But seriously: I don't believe Alicia has thought through the repercussions of standing on that podium. What will her kids do/think/say?

Carissa: Now that she knows what this Mike character is like, I don't think she would have done anything else. That guy is crazy. I'm only surprised that she's standing beside Peter because Mike is going to lie his way through the campaign and Alicia had a hard enough time with the truth coming out in the last campaign. Mike's lies might be worse.

Christine: No, but it sure is interesting. He's that tie she just can't cut. They'll always have a bond and I definitely think she's attracted to the power. Plus, she's pissed at Mike and wants him to lose as much as she wants Peter to win.

Would you vote Peter Florrick for Illinois Governor?
Matt: You remember who served from 2003-2009, right? I'd say Peter would be a VAST improvement.

Carissa: Now that I've seen him and how fairly he treats cases from the State's Attorney's Office, yes. But without that insider's knowledge, not a chance in Hell. Too bad we can't have that information available to us as voters. Hidden cameras straight from the offices of those who are running. Game changer!

Christine: Given the competition... yes. I actually really like Peter, as long as I don't have to be married to him.

Did Eli choose the right campaign on which to work?
Matt: The DNC didn't really give him a choice, did it? Considering he was a mere consultant on one, and the other has aspirations that conceivably to the White House, yes, not much thought should have been given to this one.


Carissa: I thought it was unfair they made him choose. ESPECIALLY when I heard the phrase "we don't want a woman in the race." I hope Eli finds the best alternative to himself in the business and puts that person to work for his ex-wife, even though I find her thoroughly annoying.

Christine:Yes. He's worked hard to see Peter get this far so I think that was the only choice. As much as I'm not crazy about his ex I think he should have been honest with her about what was said. At least she'd know what she was up against within the party.

Give this week's case a grade.
Matt: A-. It took second position to the Kresteva shenanigans, but certainly kept my attention those times where it did become the focus. Always fun to see Kalinda solve a crime and my heart went out to Alicia's poor client.

Carissa: B. I enjoyed the case. Not just the case, but the after effects of caring more about the money the firms could get from a plea deal than the lives of the girls who, as it turned out, were innocent. That stuff could drive me to be a political activist... if I weren't so darned lazy.

Christine: A. I liked that it showed the politics behind all sides. How the DA's office simply didn't want to get sued and even though two of the girls were innocent, the lure of the money could have kept them in prison longer. That the law firms all wanted their pay day was no surprise.

Tags: The Good Wife, Round Tables