Before you read the following excerpts from Zach Roerig's panel discussion with fans at this weekend's Vampire Diaries convention in Chicago, during which he took the stage with David Anders, the man behind Matt Donovan has a request:
Go Tweet at Joseph Morgan and refer to him as "JoMo." The actor will simply love that.
All set? Good. In between jokes and laughter from Roerig and Anders, I did the best I could to record the former's answers to a number of attendee questions. Enjoy...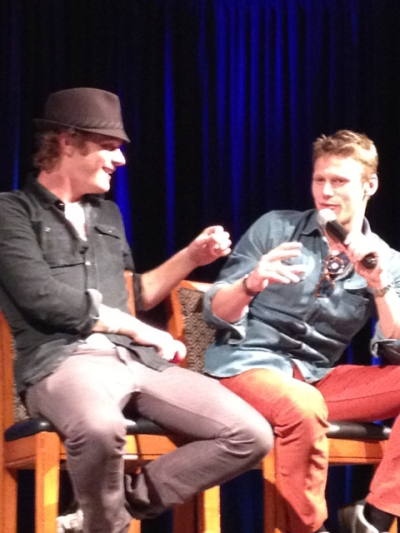 What do you like to do in your free time?
I like shooting my bow and arrow.

If Matt became a vampire, would he join the Salvatores or the Originals?
Damon does have some piercing blue eyes. But then there's Klaus… so I don't know. I'm gonna plead the fifth on this one.

How does working on a soap opera set compare to working on a primetime TV set?
A lot less dialogue [in soap operas], but that prepared my muscle for memorization. A lot pages per day, a lot of hitting your mark and then you move on.

What do you look for when choosing roles to play?
Something that's as far from myself as possible.

Did you have to do anything different for the drowning scene in "The Reckoning?"
I had to do some special underwater training, to use a regulator and stuff. I was underwater for like 20 minutes and, in between takes, the AD sometimes would be like, 'Maybe we should get Zach some air.'

What kind of music to you listen to?
There's this band breaking out from Ohio called Astro Fang. The bassist may or not be my cousin.

Any similarities to Matt?
I was an athlete in high school, too. But Matt has more of a moral compass than I do. Pretty much all I need to do is pretend I'm a nice guy.

Three things on your bucket list?
This is definitely one of them. I've always wanted to go sky-diving. But I think we're contractually bound to not jump out of airplanes right now… I would like to break dance on the moon.

If you were a superhero, what would your superpower be?
If every time I wanted to spend money, I could just go like this [slings fake Spider-Man webs from his wrists] and cash would come out.

What was your reaction when you read that Matt would be the first to kill an Original?
You're God damn right! I was just a little bummed that I couldn't use my hunting rifle and stab him with that.

If you could be any other character on the show, male or female, who would you be?
Sheriff Forbes. Is that weird?

Matt Richenthal is the Editor in Chief of TV Fanatic. Follow him on Twitter and on Google+.

Tags: The Vampire Diaries, Exclusives, Zach Roerig, Interviews