Call me crazy, but was I the only one who thought "A Tale of Two Parties" was one of the most amusing episodes of 90210 this season?
Oh Naomi... ever the prankster. Not one to let resentment, bitterness and hostility cloud her judgment, she tried to sabotage Madison's bachelorette party. Attempting to prove that Madison wasn't as innocent as she seemed and on the hunt to discover some deep dark flaw, she invited Nick Carter, Madison's childhood crush, to undo her. Unfortunately the only thing undone was Naomi's plan because all Madison did was bore Nick to tears going on and on about Max.
In Naomi's defense, it must have been hard watching Max and Madison fawning all over each other. They did make a cute couple. Boring, white-bread and bland, but cute.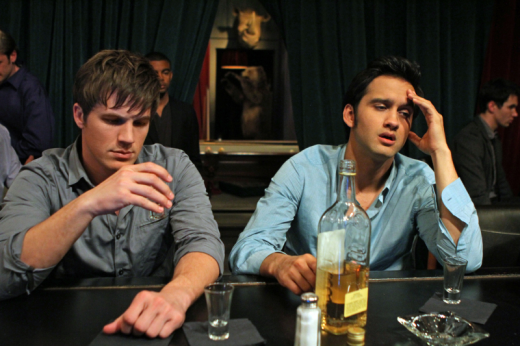 Personally, I like Naomi when she's at her clueless, catty best. Case in point, the scenes with her playing with the breast implants and telling the doctor Silver was in two relationships while Annie gave her the exasperated side-eye were hysterical.

And, surprisingly, it wasn't Madison who enabled the door to be left wide open for our Miss Naomi to step through - it was Max.

Liam and Navid were still going at it and decided to duke it out over Silver with a bottle of whiskey at Max's bachelor party. Seeing them also go at it at the doctor's office early on was priceless. I couldn't help but root for Navid. Didn't it seem a little stalker-ish for Liam to be waiting for Silver at the doctor's office? Honestly. He's been with her once and already he's staking a claim? At least Navid had a long-term thing with Silver. He even dropped out of Princeton to enroll in CU and look after her!

But Silver was the one who put their competition to a halt and saw that neither of them was worthy of her when neither of them manned up. She wanted a baby, she wanted to experience life, she wanted everything NOW. Good for her.

Caleb quit the seminary and started drinking. Way to go, Annie. Not only did she manage to destroy Caleb but along came Ivy who also blamed Annie for making Diego run off. She had a point. Annie needed to keep her nose out of other people's business and fix her own messes. I liked angry Ivy. Total improvement on the dull surfer girl she used to be.

Annie made amends though and managed to get Ivy and Diego to reunite for one final goodbye in which they were happily able to declare their love for one another. And seek sanctuary for Diego within the confines of Caleb's church. Perfect chance for Caleb to fix his part in that mess.

Austin brought unexpected "entertainment" to Max's bachelor party in his quest to get back at Bree. And sweet revenge he got. But no hooker with a heart of gold was she. She promptly turned the tables on Austin and pretty much got the entire party busted. Poor Max... completely befuddled the whole night. How great was Caleb's herk-jerky dance on the bar? And let's not forget Madison's freak out with the baseball bat which led to the liberating of the fish at her own shindig.

It was Adrianna who really killed it, however, with her new country song. She's always had a major set of pipes and they were in full effect at Madison's party. It was cool that she decided to keep Austin as her manager. His getting Bree to take the fall for the sorority house burning down managed to save Annie's hide. One good turn deserved another.

So, while both parties ended up with a one-way ticket to the slammer, being behind bars for what probably amounted to all of an hour did not exactly turn the gang into hardened criminals. We're talking Beverly Hills after all.

The course of true love never did run smooth.

What do you think the season finale will bring? Wedding bells for Max and Naomi? Brimstone and fire for Annie? New and improved bazooms for Silver?

Check our 90210 quotes and add your two cents to the comments!

Tags: 90210, Reviews