Eureka Review: I Am Jack's Consciousness
by Jim Garner at .
It's good to see things getting back to normal in Eureka. From random meat exploding to Martha going crazy and Jack swapping bodies with random people, it seems like another typical day in "Jack of All Trades."
We call all agree that no matter how quiet things are, the moment Warren Hughes crosses into Eureka's city limits, it's all going to start going horribly wrong. Okay, that's not fair, it's not Warren's fault. Things go sideways regardless of his visits. It's just funnier when he visits!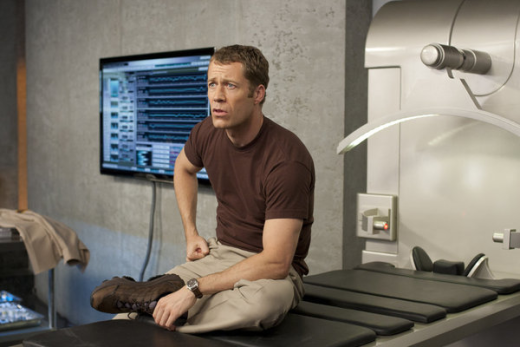 Of course, the big shocker was Jack proposing to Allison and her accepting! We also had the tiny glimmer of hope that Holly's consciousness might still be in the Matrix. I wish they had made a little bigger deal about Fargo's decision to turn off the Matrix and risk losing the information. For such a tough choice, it really needed more screen time. 

We also had Jo admitting to Allison (in Jack's body) that she had thought about them being together, but it meant nothing, and Allison rudely not saying who she was OR coming clean about it later. I know, she got side tracked by Jack proposing, but seriously, Jo should know it wasn't Jack she was talking too! 

I will admit, however, that I'm done with the whole "Jo with Jack in the Matrix" story element. They did a fabulous job of using it ever way they could in this episode. Zane and Jack swapping back just as Allison walked in and Jo was kissing Zane in Jack's body was awesome. But please let that be the end of it! 

This brings us to the meat and potatoes of the outing. I have to give kudos to Colin Ferguson (Jack), Niall Matter (Zane), Neil Grayston (Fargo), and Salli Richardson-Whitfield (Allison); they all did a great job of being Jack or, in Ferguson's case, being Allison, Zane and Fargo. Grayston as "Jack" had his stride down and Ferguson's "Allison" had me rolling with the attempted hair flips and pouty looks. Great job everyone, I loved it!

While the "body swapping" trope is as old as science fiction, when you are able to mix in some great actors and a strong mix of comedy and drama, it becomes a reliable recipe for a fun hour. Not to mention that all the swaps generated some great Eureka quotes! 

What do you think of this week's offering? Who was the best Jack? 

Jim G. is a TV Fanatic Staff Writer. Follow him on Twitter.

Tags: Eureka, Reviews
From Around the Web