Hart of Dixie has lived to fight, joke and diagnose for another season.
Yes, the light-hearted CW drama has earned a renewal and will air on Tuesday nights this fall. What do hope to see in 2012-2013? What would we change? What should remain the same?
Follow along below as we grade Hart of Dixie Season One in our latest TV Fanatic Report Card.
-------------------------------------------
Best Character: Wade Kinsella. I adore the Hart of Dixie cast and was excited for this show from the outset, having been a huge fan of Scott Porter, Cress Williams and Rachel Bilson on previous programs. I still very much am, but Wilson Bethel delivered the most entertaining character on a weekly basis. I'll leave it up to female readers to debate his penchant for tank tops and simply focus here instead on Wade's one-liner delivery, ability to pour drinks and the depth he showed toward the end of the season, such as when his brother came to town.
Worst Character: Lemon Breeland. One of the worst on television, I'm sorry to say. Nothing but a one-dimensional southern stereotype.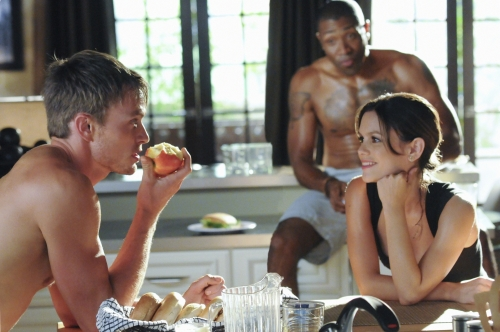 Best Episode: "The Big Day." The finale ratcheted up the love triangle like never before, left us with a legitimate cliffhanger and finally pulled the plug on a wedding we all knew was a terrible idea.

Worst Episode: "Aliens & Aliases." Some seriously contrived storytelling here involving Joelle and her ex-boyfriend, along with a pretty ridiculous Case of the Week for Zoe.

Most Welcome Weekly Sighting: A great deal of skin.

Most Unwelcome Weekly Sighting: Lemon's giant hats.

Most Unexpected Moment: Scott Porter blowing us away on stage in "Destiny & Denial."

Favorite Bluebell Event: The turtle race and Planksgiving (tie).

Hope for Season 2: Hart of Dixie is that unique CW show that doesn't shock you with crazy sex shenanigans (hi, Gossip Girl) or a dozen twists each week (hey, Vampire Diaries). It's content just telling stories within its somewhat outlandish, fictional world of Alabama. And that's refreshing, but it can be a bit of a drag. Spice up the plots a bit, speed up the action and avoid some of the cliches. Also, kill off Lemon. Painfully.

Overall Grade: B+

Your turn, TV Fanatic: What grade would you give Hart of Dixie Season 1?

Matt Richenthal is the Editor in Chief of TV Fanatic. Follow him on Twitter and on Google+.

Tags: TV Fanatic Report Cards, Hart of Dixie