Missing Review: Sleeping With The Enemy
by Leigh Raines at .
Last week's Missing ended on quite the incredible note - with the takedown of Azimoff and the reveal of Suspect Zero. For a full briefing on what it felt like to be a two-timing crime boss that abducts your own Godson, read our interview with Martin Newman's portrayer Keith Carradine!
"Promise," meanwhile, picked up exactly where we left off last Thursday, inside of the church. Now that Paul and Becca knew that Martin is running the show and had Michael in custody, they had to work together to get him.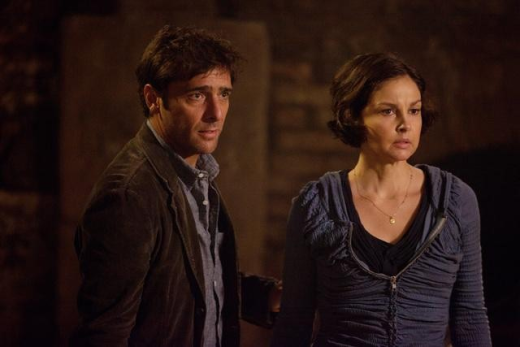 Giancarlo selflessly put his life on the line, literally, so Becca and Paul had a better shot at finding Michael. I'm not surprised Violet finally got caught in this episode. If she didn't I was going to think that Dax's team was made up of a bunch of boneheads. Violet was getting real sloppy, first shooting Maksim, then Giancarlo and claiming they both shot at her.

Ballistics, blood splatter analysts and crime scene investigators can all refute these claims quite easily. I actually felt sorry for Dax that he always seemed to be a few steps behind. Luckily Giancarlo anticipated trouble and set up people from Interpol to come help assist the CIA. When Dax and Violet were chatting post coital and he so casually revealed that he thought he knew who Suspect Zero was, Violet looked so sweaty and nervous and I was just praying she'd get caught. Woo! Might I just add that your lingerie is ugly, ta ta now. 

So Paul is in jail. Who can he call? It's amazing that these two men sacrificed their lives for Becca to find Michael. That is love. Becca is as close as she's been since she chased Michael's plane on the runway, but who can she call? She certainly can't turn to Martin.

I really enjoyed watching Becca and Paul work together and I hope she can save him too, but one thing at a time. I was awash with a sick nauseating feeling when it was confirmed that Oksana was a sex slave. Michael is such a gem and good kid and I'm so glad he never abandoned her, despite my selfish thinking that he should look out for himself in the past. I would've fainted if I were her and saw that man on the dock as well.

Hopefully she will be able to keep Michael safe as he has done for her. Martin is a real sociopath. His quote about Becca being in trouble, which was really about him being in trouble, hit the nail on the head: "That's the trouble with covert business Michael; it's all built on lies and deceit. One day you look up and suddenly discover a line has been crossed. Something you never intended, but you can never turn back."

For more quips from tonight's episode go to our Missing quotes section. Otherwise hit the comments and get ready for the finale!

Leigh Raines is a TV Fanatic Staff Writer. Follow her on Twitter.

Tags: Reviews, Missing
From Around the Web