NCIS: LA Season 3 Finale Preview: Explosive!
by Steve Marsi at .
NCIS: LA promises an explosive season finale. Even by its highly explosive standards.
"I've been doing this for 30 years and that explosion, in the world of blowing things up, is a triple A+," says executive producer Shane Brennan of the scene shown in the promo below.
"That explosion hasn't been enhanced with any computer graphics at all. When you see it on air, we have not touched it. The audience, because they've gotten so used to seeing these things on movies and in television, they often make the assumption that you've added some computer graphics ... none. We have done nothing to it."
See what he's talking about in CBS' preview for the two-hour "Sans Voir" below: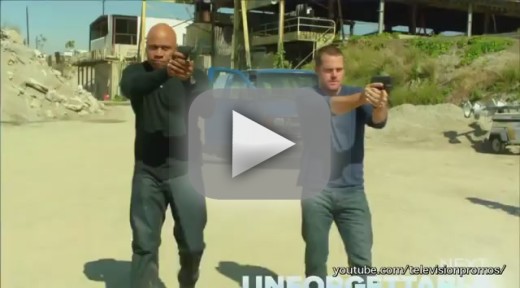 In the third-season ender, Callen & Co. battle their old adversary, the Chameleon.

While pursuing a clue that will lead them to their bad guy, part of the team finds itself in a fiery situation at a warehouse, after their plan "goes a little south," according to Brennan.

That's putting it mildly. It's hard to imagine Sam (LL Cool J) doesn't make it out alive, but both NCIS and its spinoff have been known to go down surprisingly dark roads at times.

"Something happens in the first hour that catches them by surprise. They're blindsided," Brennan tells EW. "Then in the second half of this movie-length finale, they're in uncharted waters."

"They've never experienced this kind of thing, and it takes Callen to a place that is quite disturbing. It takes Hetty to a place that she's been to before, and we've alluded to before in earlier episodes."

"So by the end of the finale, the audience will be asking what we're going to do next season because everyone is sort of facing in a different direction."

"It is as upsetting of a finale as I've ever done - in terms of the audience not liking me very much when I'm done, when they're finished watching. Either one of these could have been a season finale."

Talk about broad statements designed to get people talking and setting expectations high, but the crazy thing is that with this show and its cast, they're usually met or even exceeded.

Share your predictions for the can't-miss event in the comments below.

Steve Marsi is the Managing Editor of TV Fanatic. Follow him on Google+ or email him here.

Tags: NCIS: Los Angeles, Spoilers, Promos
From Around the Web