The Bachelorette Review: The Things Z-Listers Say ...
at . Comments
Natalie Getz is a former Bachelor contestant and the first-ever winner of Bachelor Pad.
In reviewing The Bachelorette for TV Fanatic this season, she brings her unique experience of having been on this crazy ride, as well as her disdain for almost every Emily Maynard suitor, as expressed after last week's season premiere.
Was this week any better? Read on for Natalie's take on Episode 2 ...
---------------------------------------------
We begin this week's Bachelorette review with a breakdown of the show through some of the best and worst sh!t that actually comes out of these people's mouths...
The five worst quotes heard on The Bachelorette this week:
1. Ryan: "I would imagine this is, uh, for us?" - On walking into Orsso with Emily on their dinner date.
And no Ryan, it actually wasn't for you guys. It was for the other Z-list couple walking into a purposeful empty restaurant. 
2. Tony: "I'd rather be dancing at this point, but being with Kermit on stage is kinda unreal." - On his role in the Muppet's play.
He not only imitated Kermit's voice, but he mentioned that he lived off of the Muppets growing up. Ohhhhhhhh, this one...
3. Kalon: "You put being a Dad on hold to come on this show." - On Doug having a son. 
I kind of wanted to punch him in the face for saying this, and Doug did too. Doug laid into him and emasculated the conversation by making him look like a complete fool. Telling a parent they put their kid on hold is probably the worst thing anyone could say. 
4. Stevie: "This is crazy right now. I can't believe I'm actually dancing with Emily and Muppets."
Honestly? I can't believe you were even cast to be on this show.
5. Stevie: "He already has a rose. There is no way he is talking to her more." - On being upset that Ryan is reading Emily a love letter at the Rose Ceremony cocktail party.
Get over it! If Ryan wants to build a relationship that results in marriage, he shouldn't stop just because he is safe through the next round. This isn't a game or about fair playing time. This is real life, not a little league game!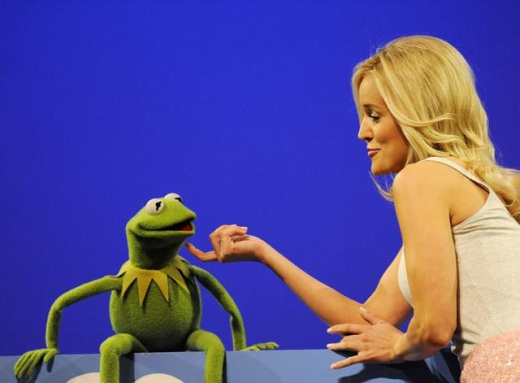 The best five quotes heard on The Bachelorette this week:

1. Ryan: "Are you ready for a guy to step in and become a father figure to Ricky and love her and treat her just as he does the children he will have biologically with you?  Because I wouldn't want their to be a difference at all." - On his dream of marrying Emily.

This makes me so happy to hear. I love children so much that if I married a single dad, I know I'd love his children the same as the ones we create together. I think it's hard for someone to honestly love that way. You can say you do all you want, but it's an emotion and feeling that you can not force. I actually always said I wanted to marry a single dad because I know I have it in my heart to love his kids as if they were my own. Nice save, Ryan!

2. Emily: "I'm tired of being in charge. I'd gladly, gladly allow someone to come in and take over. (pause) Obviously, I'd still be in charge. I'd pretend like he was in charge, but we would both know I am." - On being sick of her single mom routine.

How is Ryan not laughing at her witty, subtle sarcasm? He is hot, but not a lot of humorous personality to him. Strike. 

3. Kermit: "I don't think I have a lot of experience zipping zippers, but I think I kind of like that." - On realizing he has male parts after helping Emily get into her dress.

4. Sean: "Kalon has this air about him. I get the feeling that he uses his vocabulary as a way of trying to show his dominance within the household." - On being irritated about Kalon.

Kalon tries a little too hard to show off his money and supposedly dapper lifestyle.

5. Wolf: "I have a rule. If you have Louis Vuitton luggage AND you are a dude, then you are a douche bag." - On Kalon's designer lifestyle.

In case you missed the show, here's a quick rundown: 

Emily takes Ryan on a 1-on-1 date, only because she needed help unloading groceries. She gives him the rose, because he passed the "cookie" test. She then takes a bunch of her boyfriends on a group date with the Muppets.

Miss Piggy was the only entertaining part of this date. Jef with one F gets the group date rose, and I was as shocked as all of you. I would have chosen brain injury boy.

She then takes Joe on a 1-on-1 date, God only knows why, and doesn't give him the rose. I feel like I don't need to explain why. Two guys go home whose names I have already forgotten and the beat goes on.

And yes, Stevie is still on the show. I'm pretty disgusted. Emily looks so pretty that every girl in America either is dying their hair blonde or picked up an eating disorder.

Tags: The Bachelorette, Reviews