The Big Bang Theory boys are growing up! Howard's getting married, while both Leonard and Sheldon are in meaningful relationships. Poor Raj? He still has the cute little dog, I hope.
After all this time, on "The Launch Acceleration" it comes out that Howard is scared to go to space. I didn't see that one coming, did you? Don't get me wrong, I don't blame him. I get scared jumping off a high-dive, so shooting into the cosmos is definitely worthy of a little fear.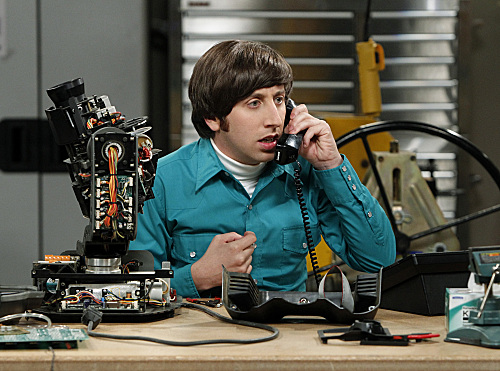 Howard: Yes! Thank you! Oh! Oh ... I'm not gonna die in space! I'm gonna die the way God intended in my late 50s with a heart full of pastrami. | permalink
The misdirection on the phone was well-played. I'm not sure we've seen Howard get as excited about anything as he did from the cancellation. After initially not wanting her Howie to go, Bernadette was overly supportive of Howard missing their wedding. It looks like Howard is headed to the fina frontier! But what about the wedding ... they have to get married, right?
The pressure the other couples are feeling is natural given their friend is heading down the aisle. Leonard's misstep with Penny led to the funniest lines of the night:
Leonard: I'm sorry! I did, I crossed a line I didn't mean to.
Penny: Who says something like that right in the middle of sex?
Leonard: I don't know, it just came out! People say weird things during sex all the time.
Penny: Okay, well they sure as hell don't say that.
Leonard: It was heat of the moment.
Penny: No, the heat of the moment is "Oh yeah, just like that." Not "will you marry me?"
Leonard: I'm sorry, just-just give me another chance.
Penny: Why, so you can crawl under the covers and go, "Hey, baby, wanna go look for houses in neighborhoods with good schools?" | permalink
I'm glad that Leonard's error didn't end the relationship between them. Penny and Leonard belong together, but that was definitely not the appropriate time for a proposal.

Amy has been the most controversial character on the show. Some people love her, but most people seem to dislike her. My feelings have varied by episode, but overall her character has been much improved this season.

Tonight's episode was probably my favorite Amy outing. She played Sheldon perfectly! Will her experiment work? Is it possible for her to seduce Sheldon with his favorite things? Perhaps they should play Star Trek doctor in the bedroom with the Super Mario Brothers theme playing and strawberry Quik as a chaser. Oh, the possibilities....

The developments in Leonard and Sheldon's romances has me wondering: would the show still work if they stopped being roommates? What if Penny and Leonard moved in together? Or, shockingly, if Sheldon moved in with Amy? The two friends lived apart for a very short time before, but in that situation Raj moved in. The show could still be funny, but it would definitely be different.

The season is coming to an end with the finale next Thursday. Will Howard go to space? Will he marry Bernadette? Or will he somehow do both? Only one week until we find out. In the meantime, check out some more funny The Big Bang Theory quotes!

Carla Day is a staff writer for TV Fanatic. Follow her on Twitter and on Google+.

Tags: The Big Bang Theory, Reviews