The latest installment of Drop Dead Diva was the conclusion to famed guest star Kim Kardashian's storyline. In "Freak Show," Stacy and Nikki met with Grayson to establish their business, much to the chagrin of Jane.
We all know that Jane is very shrewd and Nikki came off as very shady, so it was no surprise when Grayson found some unsettling background info on Nikki. And, no, it has nothing to do with a 72-day marriage!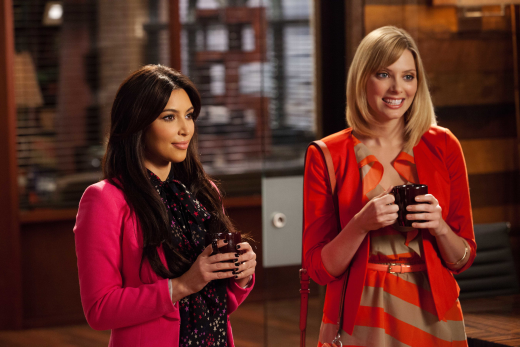 Nikki was a fraud and screwed over Stacy, but in the end Stacy ended up with a better business partner: Jane! I am not a Kardashian hater at all, but I found her and Stacy's whole arc to be kind of boring. I feel like Drop Dead Diva is such a fun, unique, smart show and it didn't need to name drop a Kardashian when the storyline ended up being overhyped and obvious. Again, just my opinion.

I do, however, like that Stacy is getting on her feet and starting a business, especially since the love story of Stacy and Fred is no longer happening. I know we all miss Fred, but this week I actually started to like Luke. When he comforted Jane on the balcony at the end, we got to see a bit of heart. Truthfully, he is more of a guardian angel in a way because he is definitely more self assured than Fred was. He can give Jane actual guidance.

As much as last week's scene in the piano bar broke my heart, I adorable Jane and Owen... and they finally dropped the L word! Grayson may have been Deb's soulmate, but I think Deb as Jane has grown into a different person. Owen really complements her and he makes her happy. I enjoyed meeting Owen's sister Olivia this week and it was intriguing to learn she had a background with Jane!

That's partially what is so frustrating about Jane's predicament. Deb took over Jane's body and there was no manual attached, no history given. Shouldn't the guardian angels be able to fill her in a little bit?

There were a few other guest stars tonight: Valerie Harper as a judge and Patty Duke as a client who gave Jane some false hope. Duke played Rita, a client who sued for wrongful termination that withheld her pension. What led to the firing had a lot to do with how Rita handled herself in the year after her sister Lauren died in a car accident next to her. She felt like she needed to honor Lauren's spirit by being a more honest person.

She told Jane that Lauren's spirit was inside of her, obviously blowing Jane's mind. All this time Jane thought she was the only person who had hit the return button. In the end, it turns out that Rita had a serious head injury in her car accident and claimed she was Lauren's spirit because she felt it sounded better. I don't really buy it. I believe there was a head injury, but maybe Rita thought people would think she was extra crazy if she told everyone she was really her sister's spirit. Maybe Rita has her own guardian angel who keeps her from revealing herself, the way Jane does?

This episode had interesting cases, helped reunite Jane and Stacy and brought a whole lot of love front and center. Parker and Kim are headed for a reconciliation and Jane and Owen are definitely serious. What did everyone else think of the episode? Were you ready for the Kim Kardashian arc to end? Hit the comments!

Leigh Raines is a TV Fanatic Staff Writer. Follow her on Twitter.

Tags: Reviews, Drop Dead Diva
Want more Drop Dead Diva?
Sign up for our daily newsletter and receive the latest tv news delivered to your inbox for free!
More From TV Fanatic
It's select ensemble vs. elite in a dance rematch this week on Dance Moms. Who came home with the victory? Read on to find out!
On tonight's Tyrant, Jamal and the Sheik meet for negotiations. Will they come to an agreement?
It's time to reunite on The Real Housewives of New York City. Read all about this special episode now.
Who can be trusted? On tonight's Covert Affairs, it's clear that it's important to trust others, but also a huge gamble.
---