Eureka Review: Ghost In The Machine
by Jim Garner at .
What has always made Eureka a great show is that - at its core - it's about friendships, relationships and the people of this small town. Sure, they get some nifty gadgets and the average IQ of the residents is higher than the number of channels offered by cable companies, but it still focuses on the people. 
This is what made "Ex-Machina" such an amazing story. You had Jo showing how much she cares by trying to make everything perfect for Fargo and you had Zane, Allison, Jack and Henry unquestionably believing Fargo without a hesitation. Woven into the layers of that was Jo opening up to Fargo about her father and how he couldn't move on when her mother died.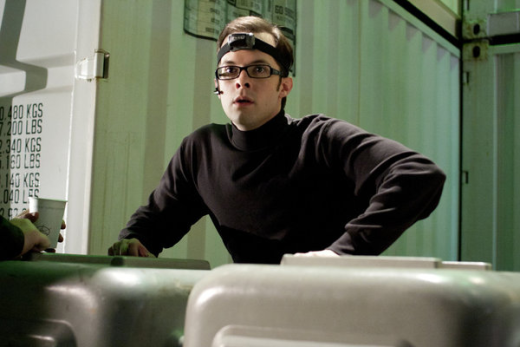 Having lost my own mother in March, I could understand better than most what Jo was trying to do, why she so desperately wanted him to let go of Holly and move on. Jo wanted Fargo to be able to begin healing process and was taking a very black or white stance on the issue not willing to believe what he was saying. But this is Eureka, nothing is ever just black or white, there are so many shades of grey that I can count them all. 

I adore Jo for what wanted for Fargo, and I applaud her for being able to get past her own preconceived notions to do what was really right, not just what she thought he needed. On the flip side of that you had Zane willing to be honest to Jo even when his nature said he shouldn't be. Jo and Zane make a cute couple, this just shows that they are stronger together than many of us may have given them credit for. Not me; I've known it all along.

Of course I'm super thrilled that Holly survived the Panop purging and Henry was able to salvage the hardware she was stored on. Now that she is "living" in Carter's house with S.A.R.A.H., though, I'm wondering if Carter and Allison should consider finding a new place. Between Andy, S.A.R.A.H., Holly and Fargo that place is going to be packed all the time. 

Maybe they can build an android body like Deputy Andy's for Holly so she can be mobile, that would certainly cut down on the number of people at Carter's house. Do they not have a super computer in any other house other than Jack's? Seems like they would have expanded that over the last five years.

Overall, a great episode. Be sure and check out our Eureka quotes to see your favorite made the list! What do you think they could do now to help Holly? Build her a house of her own? Android body? Smart Phone App? Tell us what you think they should do!

Jim G. is a TV Fanatic Staff Writer. Follow him on Twitter.

Tags: Eureka, Reviews
From Around the Web