On July 9, The Closer will air the first of its final six episodes. Ever.
After seven enormously successful seasons on TNT, Kyra Sedgwick will be leaving her seminal role as Brenda Leigh Johnson, a departure she warned showrunner James Duff about a long time ago, giving him plenty of time to wrap up The Closer with a satisfying and worthy conclusion.
Earlier this week Sedgwick and Duff joined members of the press in a discussion about the success of the show, what to expect from the final episodes and what they hope The Closer leaves behind as its legacy.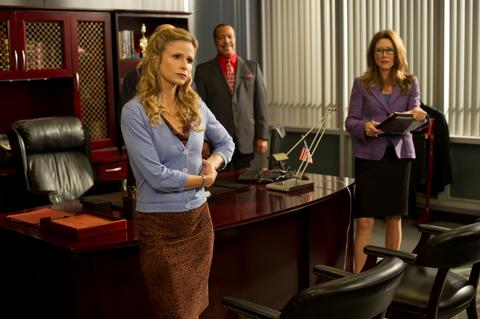 Why did you decide it was time to leave and did Kevin [Bacon, Kyra's husband] getting the lead role in The Following have an impact? 

Sedgwick: It was before Kevin got his gig. When I started to contemplate the idea of what a Season 8 would look like, it felt daunting and overwhelming and didn't feel right. It felt like it was time, as an artist, for me to do something else. You have to follow your instincts. I feel like it's wonderful that we get to go out on top and that James gets to close us out in the right way.

Duff: She gave me an opportunity to end the show in a way that I wanted to. That was a great gift of a great journey.

What do you hope that people take away from having seen The Closer?

Duff: First and foremost I hope they are entertained. The idea of doing a series is to distract people from the pressures and horrors of ordinary life. The second thing I hope they take away is this extraordinary perspective to view through the lense of this character. 

Sedgwick: I hope people have higher expectations of where their entertainment dollars can be spent. That we delivered really good stories and good characters. That viewers will seek out more than the norm and that they grew to love the character as I love her. Her complexities, her passion and through reality of being a woman in this kind of situation, and someone they could really relate to.

What will be the legacy of The Closer?

Sedgwick: Significant and seminal character in the lexicon characters ever played for a long period of time whether it be a movie or television series. I think we broke a lot of ground. We were able to consistently weave exciting storylines with deep and resonating character arcs. which is difficult, especially with a procedural.

Duff: When we created the series I wasn't aware that we would be breaking ground. It hadn't really occurred to me that way. I was watching other procedurals and it seemed a lot of times that they were asking women to be successful by acting like men. And that's just not my experience in the workplace.

Women are not successful because they act like men. Femininity is a power. It is not a weakness or something that needs to be compensated for. I was very concentrated on making sure that Brenda remained a woman in this world, I hope that resonates. I think it did. I think we saw, afterwards, a lot of single female lead shows where women were not, you know, in effect dressing to disguise their femininity or overexposing themselves either. There seemed to be some acceptance that women were strong in their own right, not because they could act like men, but because they had powers as women.

What implications does the Johnson Rule have over Brenda and the team for the rest of the series?

Duff: When you create government, you end up with unforeseen problems. It becomes problematic as the solution unfolds. It was an unfair solution, but it's the kind of solution you find. We wanted to take on the issues that public employees take on and how it impacts their work.

-------------------------------------------

The Closer's concluding six episodes will continue to feature the show's special blend of humor and drama, traits that could only exist between people who work together for such a long time.

Some of Sedgwick's favorite stories were the courtship and love explored between Brenda and Fritz, the whole cat arc - getting the cat... and not wanting the cat... and then it becoming an intrinsic part of her life... and then the eventual demise of the cat -  as well as the fact that, no matter what age you are when your parents come to visit, you're suddenly that 12-year old kid again who hasn't learned anything.

Duff's favorite moment of the series will be seen in the finale. The Closer has always explored how difficult it is to find a balance to your professional and your personal life, so you make it up day-by-day, never knowing exactly where to put yourself. In one scene, James explained that Brenda is perfectly poised and balanced.

It's exactly where he always wanted the character to end up and a scene only Kyra Sedgwick could pull off. For him, it was easily the most amazing moment of the entire series. So much builds to it. Someone mentioned it was rarefied air they were breathing, to bring a series to such a close, and James promised us on the call: "I have not oversold it!"

Although The Closer is ending, it doesn't necessarily mean the end of Brenda Leigh Johnson. There is a possibility the character will be making an appearance on the upcoming spin-off, Major Crimes. That fact alone ought to inspire viewers to tune in.

Carissa Pavlica is the managing editor and staff writer for TV Fanatic. Follow her on Twitter and on Google+.

Tags: The Closer, Interviews