The staff of All Saints was seriously hamstrung, but "Are Those Feathers?" was a hit by leaps and bounds. It delivered the best Nurse Jackie episode of the season. Everything Gloria loved about being a nurse may have been gone, but everything I love about this show was present tonight.
Zoey shined, but my favorite moments from her came as she served breakfast to Jackie, Gloria and Eddie like some domesticated geisha in her kimono and Asian hair bun.
Sam stepped up big time with a few choice lines, while also taking the brunt of Cruz's ire when he questioned his boss's decision to bring the Quantum Bay board members to the hospital, as noted in this week's best Nurse Jackie quotes.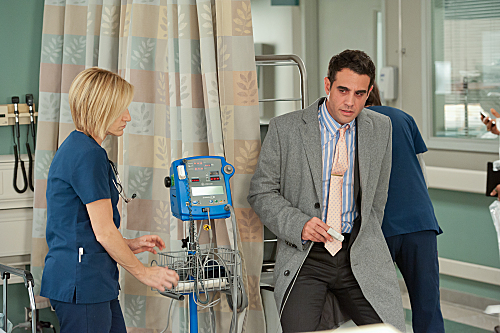 Coop's boob grab was back, but unlike Cruz, he was able to overcome his affliction and pitch in across the board. While being present on the floor for patients he still found time to check in on and of course annoy O'Hara, as well as impress Jackie on more than one occasion.

Thor felt like he was hosting the world's worst cocktail party, but he didn't seem to mind it while accepting the flattery of the construction workers who were forced off the roof by power surges and a demonic nail gun.

How fitting that while Gloria sat in the hallway after her exit interview, trying to say goodbye to her hospital, that she was seated in front of one of her beloved statues. She may not have officially worked there anymore, but that didn't stop her from coming to Jackie's aid at a crucial moment. I loved when Jackie announced to her "what do you say we show them how we used to do this?"

Like Charles used to be with the Pembroke family, Jackie Peyton was in charge of the floor's wrongs and rights and showed us that she really cares for her coworkers like they're one of the family. Her battle with Cruz is far from over, though, as this week's episode left a lot of open ended story lines both at home and at work for our fiery protagonist.

Like "God's" sidewalk drawing, it was a masterpiece despite lacking the finishing touches the finale surely will add. 

Tags: Nurse Jackie, Reviews