Even though the breathtaking act of Cesare murdering Juan left most of us wondering what could possibly happen next, just as François Arnaud assured me last week, the season finale of The Borgias was not without its own surprising and tension-filled moments.
The "new Cesare" that Arnaud teased to TV Fanatic was born, Lucrezia continued her ascent to the Lady of supreme confidence, the Friar Savonarola was finally put to death in front of all of Rome, the Pope struggled with the news of Juan's death and then succumbed to Della Rovere's poison plan in the final seconds of "The Confession." 
Yeah, it was quite the hour.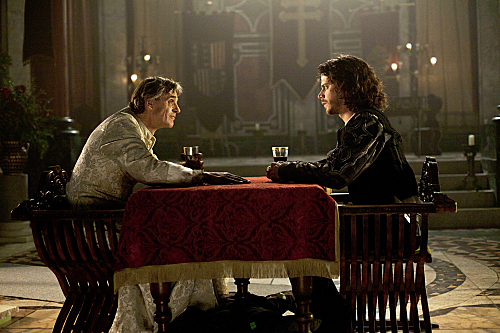 Much of the final installment of the year felt like a sneak peek at what's to come. Nothing accomplished that more than Cesare's new stone cold attitude. He has always been the man that wanted to be the tough guy, but now it's seems like he is.

He shed no tears for the brother he just murdered. In fact, he celebrated his sister's marriage instead of mourning the loss. He forged Savonarola's confession so that the friar could be burned in the street. Cesare even admitted to his father that he murdered dear Juan, and there was not an ounce of emotion coming out of him.

That's not a knock against Arnaud's performance at all. The point of the episode, in the case of Cesare, was to portray the character as someone ready to throw emotions aside for the good of Rome. He is now ready to be the stone cold warrior he's always wanted to be. I, for one, can't wait to see that play out in season three.

Similarly, Lucrezia continued to grow throughout this second season, but her newfound confidence was never more apparent than in her toying with Alfonso. She stopped him dead in his tracks, ordered him to her room, pretended to be someone other than herself, and did it all like she was the queen of the entire world. After figuring out that the kid liked her for her and not the Papacy, she agreed to marry him. Good for her.

What was the most impressive, though, was Holliday Grainger's performance after the family found Juan's body. As Lucrezia explained to Rodrigo that many people would have wanted to kill Juan, exclaimed that she wished him dead a thousand times, and had a tear fall down the front of her face, I got chills. It was a fantastic piece of acting.

The Pope, meanwhile, had no idea how to handle the death of his son. How out of the loop was this guy that he is the only one in his family that didn't realize Juan was a complete disaster? Whether it was crying hysterically, or carrying the body out to bury it himself, Pope Alexander completely lost it. I mean it's totally understandable. It was his son after all, but I think Della Rovere should think about ousting Rodrigo due to lunacy at this point.

Getting rid of Pope Alexander may not be necessary anymore, though, after Antonello's poison finally reaches Rodrigo's mouth in the final minutes of the finale. Both the boy and the Pope went to the ground gasping for breath, but we were left questioning the outcome of the act.

The cantarella seemed to do the trick, but could this really be the end of Rodrigo Borgia? Although I hate knowing the history behind this story before watching it play out on screen, I couldn't help but look up the Pope's date of death. According to history, he died six years after his son Juan. Unless they plan on really fudging history, we should see Jeremy Irons back on the chair next season.

How the Pope will be saved is a question for the hiatus.  For now I leave you all with a number of quotes from the season finale in our The Borgias Quotes section, and a statement that this has been a fantastic year for this Showtime series.  The Borgias elevated its game throughout the run, and I'm extremely excited to see where this story goes next.  What did you all think?

Dan Forcella is a TV Fanatic Staff Writer. Follow him on Twitter.

Tags: The Borgias, Reviews