True Blood Exclusive: Kelly Overton on Her "Fiercely Loyal" Werewolf
by Matt Richenthal at .
Kelly Overton debuts this Sunday on the True Blood Season 5 premiere, and fans of the HBO hit should consider themselves warned:
They may not be huge fans of Overton's Rikki, a member of the late Marcus' werewolf pack, when they first meet her.
"She's definitely not in the best of moods," the actress just told me over the phone, describing Rikki as "fiercely loyal" and focused on one question: What happened to her Pack Master?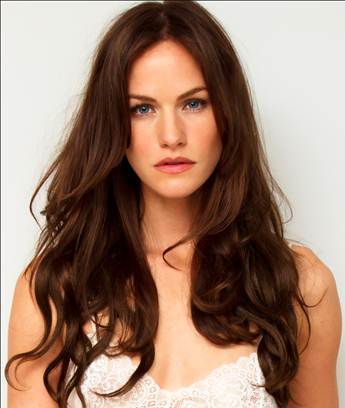 "She tough, she's resourceful, she's pretty much the opposite of a damsel in distress," Overton added. "She will do whatever needs to be done to protect the pack."

What will this mean for Rikki's interactions with Alcide, who is responsible for Marcus' fate? Overton couldn't say specifically, but did tease: "There are many different colors and levels to her relationship with Alcide."

Overton has been a star athlete all her life (she was undefeated in the hurdles during her Western Massachusetts high school career) and says those track and soccer skills really came in handy on a show such as True Blood. Werewolves aren't exactly stationary creatures, after all.

"It's been a dream of mine to marry both those talents and both my loves, being physical and acting," Overton said of filming action scenes, and then adding another love of hers that fits in perfectly:

"I grew up a huge fan of vampires in general. I read all of Anne Rice's books. Lost Boys is a favorite movie of mine. So I've been hooked since the first episode [of True Blood]."

Considering the blood, gore and nudity of the show, can she give away any particularly crazy or memorable scene in which she's been involved? Any kind of teaser for what's to come?

"Every scene I've done," she laughed. "You'll see werewolves like you've never seen werewolves this season."

Matt Richenthal is the Editor in Chief of TV Fanatic. Follow him on Twitter and on Google+.

Tags: True Blood, Exclusives, Interviews
From Around the Web