They're dropping like flies in Falling Skies.
Or like survivors trying to do battle with a well-armed foreign enemy.
Either way, "Love and Other Acts of Courage" featured the second human death in two weeks, but that's just about all this episode had in common with last week's letdown. As opposed to contrived emotional moments, this installment focused on a couple established relationships and one MAJOR plot twist.
Can Red Eye really be trusted?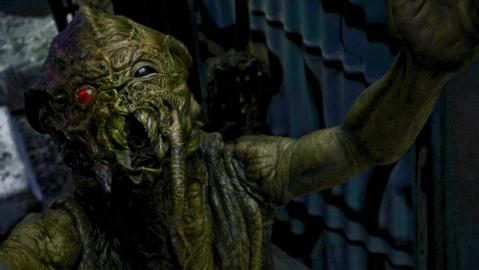 In my interview with Colin Cunningham, the actor said to expect the alien storyline to "open up" and that nothing is ever "one-note" on this show. It's safe to say he wasn't lying.

The mere notion that the Skitters were once like Ben - harnessed life forms from another planet who were turned into their enemy and have been trying to fight back against the changes and the revolution ever since - is fascinating. And, in the context of a sci-fi show based on an alien invasion, absolutely believable.

Why wouldn't the lead aliens have attacked other planets before coming to Earth? It's a new angle on an old story.

As I've written about many times, the basic premise of Falling Skies has been done numerous times before. Viewers would quickly grow tired of survivors blasting away at these creatures every week. But having already established a couple interesting characters, led by Noah Wyle's reluctant, pained hero, Tom Mason, we now seem to entering even more unique territory.

Humans teaming up with aliens to fight other aliens. Simply put: very cool.

Tom is already torn between protecting his children and doing what's right for the Second Mass as whole. Now he'll be divided even more by actually taking Red Eye's side against his understandably cynical fellow soldiers. It all led to that nice moment between Tom and Weaver, a bonding scene that actually felt earned (contrasted with last Sunday's forced father/daughter reunion) and that set the scene for a choice Tom may need to someday make.

But there's no way he ever puts Ben down... is there? I don't see why he would even have to, if everything we discovered this week is actually true. That could be a major IF, of course.

Elsewhere, thank goodness Hal and Maggie appear to be finally giving in to their feelings. There's only so long this relationship could have been dragged out. I get that it takes awhile to get over your girlfriend being turned into an alien and all, but that was months ago! And Maggie is really hot! I'm sure Karen would understand, Hal. Go with your instincts on this one.

Same for Tom and Anne. Falling Skies is one of the more serious shows on TV, and Anne one of the more serious characters. We've seen her cry enough and we've seen these two share plenty of grave conversations. Sometimes, when there's an empty hospital room and a smidgeon of hope for the human race, you've gotta just get right in there and give each other a full-body checkup. If you know what I mean.

Overall, a very strong episode. Relationships were furthered, Rick was put out of his harnessed misery and a significant storyline shift took place. Based on the options it opens up, this is one Red Eye I'll be happy to take.

Matt Richenthal is the Editor in Chief of TV Fanatic. Follow him on Twitter and on Google+.

Tags: Falling Skies, Reviews