After last week's subpar Franklin & Bash episode, "L'affaire Du Coeur" brought back the boys I know and love. I couldn't help but laugh from the opening scene, where Peter explained to the court in that their client's defense was that, well...
 Physics prevents sex in any position in a SouthCal airlines bathroom. | permalink
When they had a chalk board full of diagrams to prove their point I knew this was going to be a fun hour.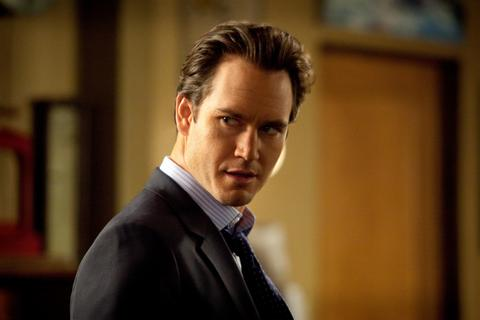 Who would have thought that Peter and Jared would be called upon to defend a judge? From the perplexed looks on their faces, I'd say they never saw that one coming. Although I thought Margaret's affair with the prisoner was far fetched, it certainly gave us an interesting twist. 

But I was bothered by Janie's defense of Margaret when Peter questioned why the judge was charged - but Margaret was not for the same relationship. If her response had been that Judge Kohler was the one in a greater position of power, I could have lived with that. Instead she tried to make Margaret out as a hapless victim he somehow took advantage of. 

I found that hard to accept. Margaret was a smart woman, a prominent DA and certainly capable of understanding the consequences of having a relationship with a sitting judge. I found Janie's explanation a bit insulting.

Speaking of Janie, what the heck happened to Officer Wendy? Not that I have anything against Janie and she and Peter certainly have their history together... but I liked the fun and easy chemistry between Peter and his police officer girlfriend. Did it simply not work out? Will she be back? I need to know more and I wish we'd gotten answers before Peter and Janie started having table top sex.

Damien's case was both funny and touching. That his friend had to prove he was gay was a creative twist. Hanna's Cooper test and Infeld's Dancing With the Stars quiz may have been stereotypical and ridiculous but I couldn't help but laugh.

The accusation that Lance was simply pretending to be gay to win a softball trophy was just... Wow! Could he possibly love competitive soft ball that much? Of course not, but the arguments on both sides did make me wonder about it for a minute.

I was glad we got a break from Pindar's issues this week. I like Pindi but I'd like to see more of Carmen and Hanna in upcoming episodes. They've been under used this season.

Are you happy with Peter and Janie's reunion? I wasn't. If Peter's writing songs about her he obviously has feelings for Janie but I found the recreational sex unsatisfying and it left me missing Wendy. Am I the only one?

C. Orlando is a TV Fanatic Staff Writer. Follow her on Twitter.

Tags: Franklin & Bash, Reviews