What was the question? Only Franklin and Bash can turn a guy beating three people to a pulp into a story of unrequited love.
Somehow "Voir Dire" had me feeling sorry for Sal, a two-time convict who slugged three people with a wrench. Yes, even as I write it, it makes little sense but where Franklin and Bash are concerned almost anything is possible.
I could understand the allure of a good plate of chicken and waffles but the boys blowing off their partner meeting surprised me. Skipping out on important meetings has its consequences, like getting volunteered for the crappy cases. In this case it served them right.
I missed Damien and Hanna this week. They felt underused in this story but Bonnie almost made up for it.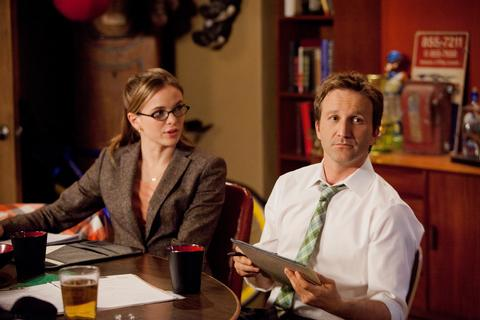 When I saw Hanna's summer intern, I cringed. The idea of watching the boys drool over a trampy intern just wasn't appealing so I was happy to meet Bonnie. She was cute, smart and funny in a deadpan sort of way - and just nerdy enough to be believable.
Bonnie had a big heart but was tough enough to make her opinions heard even when the boys weren't sure they wanted to hear them.
And best of all she had some nice chemistry with Jared. They both loved the law and had daddy issues and something tells me if Bonnie took off those glasses and let her hair down we'd find a gorgeous girl underneath. 
I'm hoping Bonnie returns. I wouldn't mind seeing a relationship between her and Jared grow as she becomes more confident and they get to know one another.
This episode wasn't as much about the case itself as it was picking the jury for it. I've been to court and being on a Franklin and Bash jury looked like a lot more fun. 
Even choosing the jury looked like an event to which I'd want to be invited. When Bonnie asked if jury selection could be turned into a party, Jared answered her with this Franklin & Bash quote:
You can make a party out of anything. | permalink
It sounds like that should be their tag line. Every episode is a party. That's why I tune into Franklin & Bash.

C. Orlando is a TV Fanatic Staff Writer. Follow her on Twitter.

Tags: Franklin & Bash, Reviews
Want more Franklin & Bash?
Sign up for our daily newsletter and receive the latest tv news delivered to your inbox for free!
From Around the Web
More From TV Fanatic
On the season 2 finale of Devious Maids, Marisol tries to convince Nick to make things right after he shares his secret. Check out our review to find out more!
On Food Network Star Season 10 Episode 7, the contestants hit Sin City and must whet the appetites of partygoers at Caesar's Palace.
An ancient strain of vampirism spreads after a dead airplane is discovered at JFK Airport. Eph Goodweather and his CDC team investigate on The Strain.
Sookie and Jason deliver some bad news to start this week of True Blood off. Pam and Eric meanwhile take a trip down memory lane as you'll read in our review.
---