The identity of Maura Isles' biological mother has been a secret for three seasons, but fans will finally find out the beginnings of Maura's story in the upcoming episode "Throwing Down the Gauntlet."
In this TV Fanatic interview, guest star Sharon Lawrence talks about the mystery behind Dr. Hope Martin and what drew her to the role on Rizzoli & Isles.
-------------------------------------------
Were you already a fan of Rizzoli & Isles? What attracted you to playing a role on the show?
Sharon: Yes, I was very interested in the launch of it because for years I've worked with an organization called Women In Film. We are a support network for women in the executive and creative positions in the industry. So the fact that it was a show sourced from material written by a woman and then created as a television series by a woman and it stars these wonderful actresses and is about women in the workplace, I was very interested.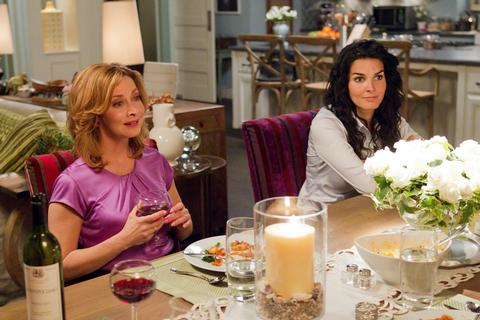 What can you tell us about your character?

Sharon: I play Dr. Hope Martin who is the birth mother of Maura Isles. She is someone who we find out from Maura, not only shares the DNA of our leading lady but shares a passion for science. She herself is a pathologist and works to develop techniques to identify the remains of victims of the Bosnian wars. So she has dedicated her after the loss of a child to connecting those who have passed with their families and their stories. I think it may be a window into the psychology of loss. Especially women, are so committed to connecting, that even in the midst of their own sense of loss they may find healing in helping other people. Particularly to fill the gaps of the mystery of a story. 

So, does Hope know that Maura is her daughter?

Sharon: This whole relationship is still a mystery to Dr. Hope Martin. She is not aware that the woman just inches away from her across the lab table is indeed the daughter that she thought died at birth.

Are you in one episode or is it a longer story arc?

Sharon: It's a longer story. There are three (episodes) at this point.

Can you share any behind the scenes tidbits from the set?

Sharon: Sasha Alexander is such a great actress and such a lovely person. She has a great sense of balance in her life. I felt really compelled to find the resemblance (between the characters). I mean, we look alike which was helpful and kind of stunning how much we did favor each other but the physical behaviors is what I found really interesting. To observe her as an actor and try to incorporate that into some of my own characterizations. It was also really fun to watch Angie Harmon and Lorraine Bracco together. They're a scream. They should just take it on the road. They are really entertaining.

C. Orlando is a TV Fanatic Staff Writer. Follow her on Twitter.

Tags: Rizzoli & Isles, Interviews, Exclusives