"Cuts Like a Knife" opens at the So In Love Wedding Chapel, where the bride looks like she just walked out of a horror movie. Wow! That white dress really showed off her... blood splatter? I'm guessing that's not what she was hoping for when she picked it out.
The brutal murder at this locale quickly turned into a horrifying case of human trafficking that included branding, rape and auctioning young woman off to the highest bidder.  The entire case turned out to be way more disturbing than I ever expected looking at that wedding scene.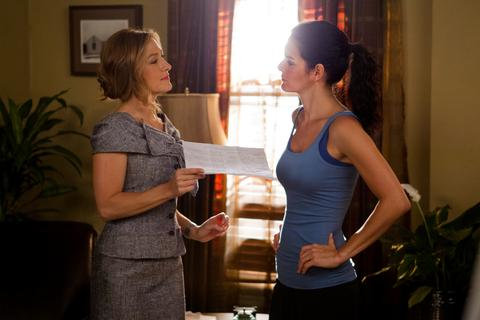 Although ex-fiance Vicky was a complete nut job, I'd guess they had to let her go. What could they charge her with? Stealing a cake topper? Talking crazy while holding a large knife? Obsessive scrap booking?
I knew the guy who ran Samaritan girl was the killer the moment I saw him. He came across way too sleazy to be innocent.
Hearing Maura and Jane's fantasy wedding scenarios was definitely a highlight. It came as no surprise that Maura had her wedding planned out to the nth detail and I couldn't help but laugh when she said in this Rizzoli & Isles quote…
Maura: What a shame to get married in a polyester blend. | permalink
Oh, the horror. That was very so Maura. Little did she know at the time that her best friend's fantasy wedding included getting married in a baseball uniform.

Frost and Frankie's man code discussion was funny and enlightening, but they were so smitten with Jane's pretty new neighbor that they missed some fairly important information. Like the fact that she was a drug dealer. That won't help Frankie's chances for promotion.

I love that each episode ends with these two best friends decompressing, this time on Jane's mattress. 

So... which middle name is better: Clementine or Dorthea? You choose.

C. Orlando is a TV Fanatic Staff Writer. Follow her on Twitter.

Tags: Rizzoli & Isles, Reviews