Coming into Season 6, I was genuinely hoping this would not be the final run for Army Wives. As we are now four episodes from the end of it, though, "Centennial" has proven that wish might have been misplaced.
Did I miss the memo that the entire writing staff was replaced? What the Hell has happened to what was once one of my most anticipated Sunday programs? I barely recognize it anymore.
Honestly, I try. I really do try to find something good in every episode because I know how depressing it can be when you turn up to read about your favorite program and someone is slamming it.
But let's be realistic here. Army Wives has become such a downer it's difficult to sustain life support by the end of the hour each week. Who's with me? Some of you have to be. You've been watching as long as I have. Remember when it was a show built not only on the perilous circumstances of being an Army wife, but on the lasting friendships formed because of those very situations?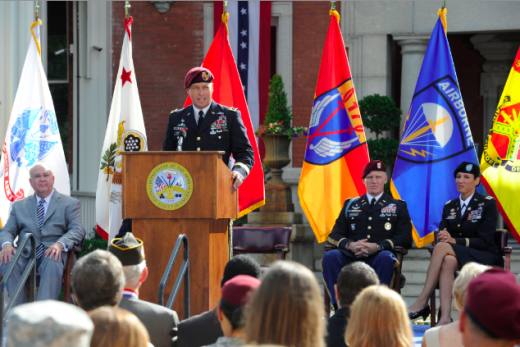 The Centennial celebration of Fort Marshall was a perfect time to take a break from the downtrodden bad luck everyone has had lately and just let our beloved characters enjoy each other's company. Truly engage in the historical aspect of Fort Marshall and show pride for their accomplishments. Be proud to be an American.

Is that really such a bad thing? As a country, have we gone so far beyond what we stand for that we can't even allow one of the last remaining television shows depicting military life to honor our accomplishments without pointing out that someone might disagree with us?

To say I was disappointed is obviously an understatement. Michael telling Joan to tone down the security was foreboding. Joan knew better. We all knew better. Anyone with a brain knew better. Michael should lose a star for letting it happen. Frank should gain one for jumping in front of the man who let it happen. I'm completely frustrated. I used to watch Army Wives and come away feeling better for having done so. Now I feel embarrassed. Something has gone horribly wrong.

If Claudia Joy isn't back by next week, the story should have been put on hold. I get that Kim Delaney had issues during the filming this season, but to keep her out of episodes that make absolutely no sense makes, well, absolutely no sense. It wouldn't have hurt to put in a filler (God forbid) fun show while she got back on her feet. There comes a point where no matter what crazy pitch flies at you, it just doesn't soar. The Claudia Joy pitches are all going foul.

Who was surprised that one of the LeBlanc babies was in distress? There wasn't a snowball's chance in July that they would have a happy birthing situation. That's a given. If the story could turn toward morose then, by golly, you could guarantee that turn. Was anyone else disappointed that Roxy and Trevor didn't at least have one girl? Kudos for naming one son after the actor, Drew Fuller. As one of the best television dads and husbands on the air, he most certainly deserved to have the little fighter named after him.

Here's the fun part of the night: Penny and Gloria were wearing the same color scheme in their opening scene. Jackie and Denise were both wearing the same royal blue color at the hospital. Denise's outfit looked like a modern version of the outfit I wore for Bi-Centennial day in 1976. Which seems to fit... since this was the centennial episode. Someone on set seemed more concerned with the visual flow of the camera than content. It worked. I noticed the outfits!

We had a five-month time jump and we're supposed to believe that Denise and Frank were still huffing over the fact that Frank was left behind. I don't think they mourned Jeremy that long. Outfit color schemes were more integral than the reasoning of emotional arcs of main characters. Good to know. I wonder what that means for the remaining four episodes. Oh, I bet Roxy will jump out of the hedges and lash out at Jackie for making her change her attire for the FRG meetings. Remember when that was an issue? Yeah, me neither. That was on the other side of this season going terribly wrong.

Finally, let's chat about Hector. Can we please hope he's finally on his way out? Gloria is so good and kind. She reached out to Penny, carrying her husband's bastard, with more warmth and compassion than he did. All he did was call her names and try to place blame everywhere for his actions but on himself. It's not very often that you feel for a girl who got pregnant by sleeping with someone's husband, but I felt that for Penny. She seemed like a good kid, strong like Gloria. It's time to toss Hector out with the trash.

Nowhere to be found were newlyweds Charlie and Nicole. Writing off one couple (Pamela and Chase) and writing on three more (Jackie and Kevin, Gloria and Hector, Charlie and Nicole) was too much for the show to handle. There are so many balls tossed into the air and they're just writing whatever cluster of balls fall into the same spot on the floor. It's not working. I don't have faith that they're going to get it together before the season concludes. I don't know if they're going to have another season.

What do you all think? Am I out of line? I wanted the Centennial episode to breathe life back into the series, but I knew it wouldn't happen. Take to the comments. Debate and prove me wrong!

Carissa Pavlica is the managing editor and staff writer for TV Fanatic. Follow her on Twitter and on Google+.

Tags: Army Wives, Reviews