Breaking Bad Exclusive: RJ Mitte on Family Secrets and an "Amazing" Ending
by Sean McKenna at . Comments
RJ Mitte, who plays Walter White Jr., couldn't be more excited about this season of Breaking Bad. I spoke with humble actor last week about working on the show, what's in store as the series winds down to the end and his self-described "experience of a lifetime."
In fact, ever since flying to New Mexico for a whirlwind set of auditions and then getting the phone call that he earned the part an hour later - and starting to film almost immediately, to him - it still hasn't felt like five years have passed since it all began.
"I'll be 20 in a week and I started the show when i was like 13, and it's just so ridiculous that I've practically grown up on this set," the actor said. "Everyone is really close and everyone has been so nice. I've learned so much from everybody. I'm still learning a lot."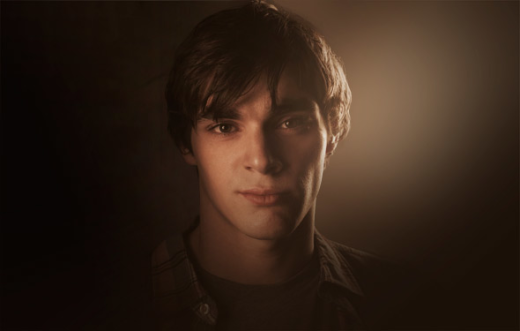 Mitte also divulged that there have been some tough scenes to film throughout the years.

"Season four [episode 10, "Salud"] when I see [Walter] all beaten up, that was actually hard. It was a rough scene because of the content, but it was an amazing scene. I still go back on that."

But is RJ anything like Walter Jr.?

"I have my moments," Mitte laughed. "When you've been playing a character for five years you do put some of yourself into it."

Of course, Walt Jr. has spent a lot of time at the breakfast table and I asked if he ever got tired of all those eating scenes.

"You know what's awesome is that people don't always realize that's the only time the family is all in contact. That's when the characters are just a family and that's what I think makes this show. The show does have a lot of graphic content, but if you didn't have those breakfast scenes, all you'd have is conflict and killing people. Those breakfast scenes lighten the mood. It brings the family aspect into it and without it, I don't think it would be the same"

Yet the mood of the show, especially involving the Whites, hasn't been a positive one, with Skyler sending Walter Jr. and Holly to stay at Hank and Marie's this year. Certainly Walter Jr. knows that something is wrong, but how has he not figured out the big secret? Is he simply oblivious?

"No, I think [his parents] keep him very quiet… [but] no one really knows what's happening to Walter Jr. I mean, look, if you were in the same position as Jr. and you get out of school and go hang with your friends and are doing stuff apart [from everyone], I mean he could be selling meth, he could be selling weed, drinking, partying. We already know he got busted for beer. There's a lot of stuff going on with Walter Jr. that I don't think anyone knows about. He's out living his own life. And as more and more people in his family start to figure it out, but Walt Jr. remains oblivious, it's not because he's just not paying attention, it's because he just does not know."

However, Mitte believes that discovering that truth is "inevitable."

"I'm honestly excited for what's going to happen with Jr. and Jesse. There's two separate worlds that are colliding at the moment and Skyler is just the brink of it. It's only eventually gonna fall into Skyler, Hank, Marie, me, and the baby. It's just a matter of time."

He added: "And now it's all about Vince [Gilligan] and Walt. When this wall comes up, how is [Walter] going to get around it or knock it down? That just leaves the biggest question of what's gonna happen when all these secrets come out and how the family will accept, or if Walt Jr. does accept his father."

Mitte spoke enthusiastically about the conclusion of the first eight episodes of Breaking Bad Season 5, saying:

"It is gonna end with an amazing twist and people are just gonna be like 'what's gonna happen next?' It's like every season. It just tops it. When I get to the script, I try and wait as long as i can before i have to read anyone else's part because I want to see it on TV."

As for how the series will end?

"I just can't wait to see how everything falls into place, especially with the writers. These writers are crazy. They really are amazingly talented and I honestly have no idea what's in store for all the characters… I'm sad to see it end, but I'm also excited because just think about how amazing this ending is going to be."

Tune in to for an all new episode of Breaking Bad this Sunday at 10 p.m. on AMC.

Sean McKenna is a TV Fanatic Staff Writer. Follow him on Twitter.

Tags: Breaking Bad, Exclusives, Interviews, RJ Mitte