Drop Dead Diva Review: Fake It Till You Make It
by Leigh Raines at .
Okay, I'm sensing a trend here. On previous episodes of Drop Dead Diva on which Kim Kardashian guest starred, she deliberately poked fun at herself. Remember when she referenced a 72-day marriage?
"Picks and Pakes," meanwhile, opened with a debate on Nancy Grace about celebrities' privacy. A point was argued that "once you're in the public eye, you can't ask the public to turn a blind eye." Interesting way to open an episode that is featuring someone people often bitch about as being famous for being famous.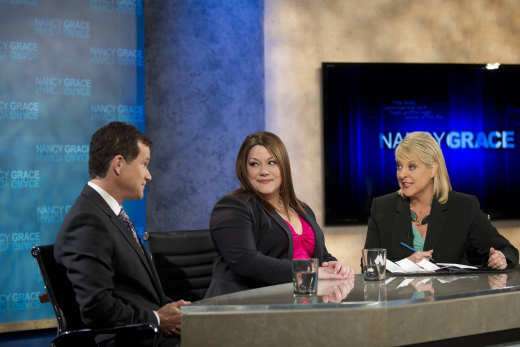 Honestly, I don't give a flying fart if Kim Kardashian is on the episode or not. Truly, I'm apathetic. The guest star that had me fan-girling all over myself? Dylan Walsh! For those of you unfamiliar with his work as Sean McNamara, one half the sexiest doctor duo of all time, please add Nip/Tuck to your Netflix queue. I promise, the other half of that duo is even more enticing. 

It's no wonder old Jane used to be obsessed with him! I love when Jane had her little zaps of intelligence on television. I find it an endearing quality and it appears that Owen does as well. I'm fully on team Owen at this point and super happy these two are reunited.

Another WTH moment? Kim Kaswell is preggers? I didn't see that one coming! Assuming that it is Parker's baby, he went from having zero kids to two in a single season. I can only hope he'll be as psyched about this news as he was about Jane accidentally knocking Grace in the face on live television. Black eye or not, that TV appearance led to Jane joining Larry's team on a huge case.

Last week I felt like the case was very relevant to societal trends right now. This case seemed very on the money as well. Gone are the decades when women smoked a cigarette while nine months pregnant, before the doctor knocked her out and delivered her baby. (True story by the way.) Pharmaceuticals are a hot topic, so this was a huge case. When Jane realized that something was up with Larry and he wasn't completely there, Owen encouraged her to use to ol' fake it to you make it strategy.

That was a super risky move to pretend you have a document in order to get a confession, but luckily it worked like a charm. So did Grayson's idea of having a pake-off. By the way, hey Star Jones. Jeez, could they have jam packed one more guest star this week? If you're going to be a patent troll at least do your homework! What a moron.

Two weeks until the big wedding day. Are you guys ready? What did you think of this week's episode? And yes Jane's client was totally Daphne from True Blood season two. Hit the comments! 

Leigh Raines is a TV Fanatic Staff Writer. Follow her on Twitter.

Tags: Reviews, Drop Dead Diva
From Around the Web