Saving Hope? In case you were wondering, that's how it's done. That's how you write an episode of compelling television, develop your characters and leave me looking forward to next week.
Several weeks back, when there was a shooting in the ER, I commented that a storyline of that nature felt wasted in the early parts of a series still in its first season. Tonight, however, a hospital-wide quarantine that shut everything down was exactly what Saving Hope needed to move things along.
"The Law of Contagion" was perhaps the best yet of this fledgling drama.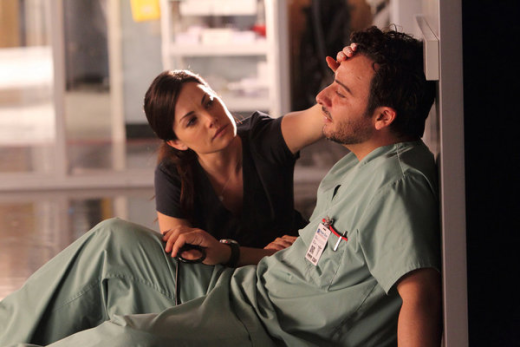 From the minute the airline passenger started coughing, I was riveted. Something about episodes where characters are thrown into close quarters with one another and told they can't leave does it to me every time. There's just something about that sort of situation that creates drama and is the perfect breeding ground for tension between characters. Tonight, I was eager to see Joel and Alex trapped together. And I wasn't disappointed.

These two have had a conversation brewing since Joel confessed to Alex that he still had feelings for her and she walked away. Tonight, he was forced to face the fact that he's not a good boyfriend. That he breaks the hearts of those who care about him because he's too afraid to take the risk on a good thing. (To read Alex's words to Joel, visit the Saving Hope quotes page. Vote for your favorite or add your own!)

And he is too afraid to take a risk. That's why he slept with Dana last week and that's why he was cold to Maggie throughout tonight's episode. He sabotages himself and his own happiness at every turn.

It was good to see Alex stand up to him about their relationship and the way it ended. It was good to see her be honest with him. Judging from his reaction, it didn't seem that he ever knew he'd hurt her that badly. Part of me wanted her to give in to that kiss, but that's totally unfair to Charlie and out of character for Alex.

Speaking of honesty and couples, I loved Shahir and Victor tonight. I don't love that it took Victor nearly dying for Shahir to realize that he should be proud of the man he loves, but I love that we got to see more of this couple together.

Maggie and Gavin as a not-really couple was nice, too. It feels like they'll be together soon and I like it. Especially if Maggie is supposed to be bipolar. It would be interesting to see how Gavin deals with that from the perspective of both boyfriend and psychiatrist. I feel like it's another angle for storytelling.

In terms of things I'm unsure of, I don't know what the purpose of suddenly having Charlie realize he was in the car when his parents died could be. It seems odd to me that he would remember that when it seems so unlikely. I'm intrigued by that piece of Charlie's puzzle.

When Charlie's eyes were open tonight, I was practically shouting at the TV for someone, anyone to see him awake, or sort of awake. My biggest hope for the remaining two episodes is that he wakes up before the credits roll on the final episode of season 1.

What did you think of "The Law of Contagion"? With only two episodes left this season, what are your predictions for how Season 1 will end?

Miranda Wicker is a Staff Writer for TV Fanatic. Follow her on Twitter.

Tags: Reviews, Saving Hope