The Glee Project Review: Lights, Camera, Action
by Miranda Wicker at .
With only a week left until The Glee Project finale, the remaining five contestants are feeling the pressure to win. This week, they'll focus on the most important skill they'll need in order to be successful: Actability.
Blake's the only experienced actor in the group. Will this give him an edge above the other contenders? Let's find out...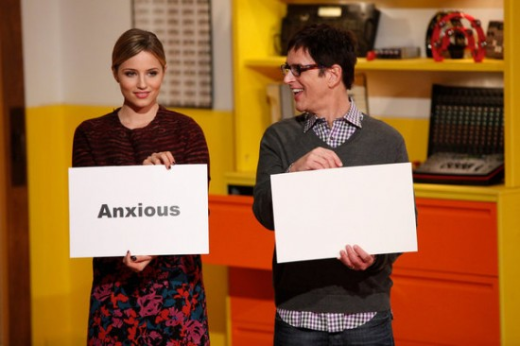 Michael feels a little bit of competition with his pal Blake. Blake is the only actor in the group. Robert tells the contenders their homework assignment for the week is Robert Palmer's "Addicted to Love" and Michael is the only one who knows the song.

Dianna Agron is the guest mentor this week and her advice to the group is that they have to work with each other during performances instead of just making sure they get their own lines and only their lines right. Then she and Robert throw a curveball into the Homework Assignment. Dianna will be giving each contender an emotion during the song and they'll have to portray that emotion during the song.

This little exercise is bizarre. Lily doesn't go quite big enough with her cue of "afraid." Michael, Blake, Aylin, and Ali all get positive notes for their performances, but Michael wins. This is his first Homework Assignment win.

The big group number will be "Perfect" by P!nk. Instead of just making a music video, they'll be making a movie trailer. Each contender has a role they'll have to take on for this fake movie. And this movie, were it real, is intense. There are secret pregnancies and life-altering car crashes and responsibility and I'm glad it's not a real movie because it would probably be incredibly depressing.

In the booth with Nikki, Lily breaks down over her lines of the song. That emotion will be an asset during the Big Group Number if she can keep it in check.

There is no script for this movie trailer. Erik gives the contenders a set-up for their section of the trailer and they wing it. Lily manages to make herself shine in their segment, but doesn't really help Ali do the same.

Blake takes on his character a little too well and kind of scares me. When he and Michael act their segment together, Zach does that cute arms-across-the-chest thing he does when he really, really likes something.

To act the rest of her scene, Aylin has to put on a traditional Muslim head scarf and the moment gets really intense for her since this is what she's fought against.

After seeing the trailer, I change my mind. I want that to be a movie.

It all comes down to this. Robert, Zach, and Nikki have everyone crying as they announce that all five contenders will be singing Last Chance performances for Ryan Murphy and the entire writing staff of Glee. Four of them will live to sing another week and one of them will say goodbye. Ryan's advice to the writers is to choose the one who inspires them the most.

Michael is up first, singing "Girls Just Want to Have Fun," made famous by Cyndi Lauper. He's singing the slow, piano-accompanied version. When he's finished, Ryan and the writers discuss his likeability and his genuine nature.

Next to sing is Lily with Dusty Springfield's "Son of a Preacher Man." There's no doubt that Lily can sing. She throws in a little acting and moves around the stage for good measure. Ian Brennan calls her "complex" but picks up on Lily's potential to be difficult to direct.

Before Ali can even get out to sing "Here's To Us" Ryan and Co. have a discussion about how she was kind of flat in the movie trailer. The writers loved her performance. I didn't. Though that was probably due to editing. Ian sees her as a "promiscuous bitch" character, and that's interesting.

Blake sings "I'm Still Standing" and Zach does his arms-across-the-chest thing again. He was really good. Amy Adler didn't see his "wound" and wondered what his vulnerability would be if he were cast on the show.

Finally, Aylin comes out to sing "Stronger" by Christina Aguilera. She does a great job and the writers all agree that she IS a character in that they've never done at story like hers on the show before.

Ryan asks the question: Is it their obligation to choose a story they've never written before or should they focus on picking a star? Then he wonders if they should do two or three eliminations tonight instead of just one. I think he wants to eliminate more than one so that he doesn't go all soft in the heart next week and end up giving them all roles on the show like last year. Ultimately, the writers decide it's their obligation to choose a star.

Robert posts the list and I'm more nervous this week than I have been during previous eliminations. I'm afraid Ryan actually HAS cut more than one person.

Aylin, Blake, and Ali are through to the finals. Lily and Michael are going home.

I'm kind of shocked, honestly. Not at Lily's elimination, but at Michael's. I really thought they'd keep him around until next week. I didn't think he'd win, but I didn't think he'd go home right now. I'm kind of surprised Lily didn't go home a few weeks ago, not because she wasn't good but because of her attitude.

By eliminating both Lily and Michael, and in reviewing the conversation Ryan had with the writers, I'm really curious as to who will win. Blake is the "star" while Ali and Aylin are the "characters."

What do you think, TV Fanatics? Who do you think will win season 2 of The Glee Project?

Miranda Wicker is a Staff Writer for TV Fanatic. Follow her on Twitter.

Tags: The Glee Project, Reviews
From Around the Web