The Glee Project Season 2 Finale: And The Winner Is...
by Miranda Wicker at .
The three remaining contenders on The Glee Project--Aylin, Ali, and Blake--have a tough week ahead of them! And at the end of it, one of them will earn a seven-episode guest-starring role on Glee Season 4.
Let's find out who the winner is now...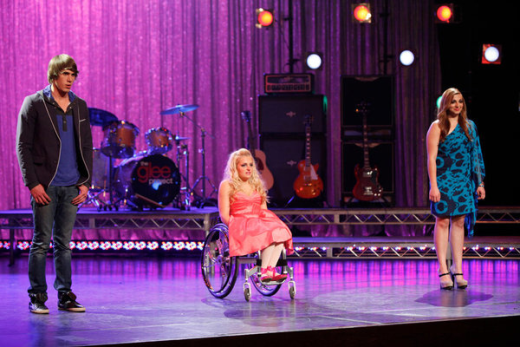 This week's theme is "Glee-ality." Essentially, which of these three is the most Glee-like. Robert gives them their Homework Assignment--"You Can't Stop the Beat" from Hairspray--and then tells them he's arranged for some special back-up singers to come in and help them. Those special back-up singers? All of their Season 2 castmates!

Aylin's reunited with Charlie and she's really not concerned about anyone else being back. Blake and Ali share the love with everyone and then Ali takes charge on the choreography because Aylin and Blake don't seem to know what to do.

Chris Colfer is the guest mentor this week and Robert tells the contenders that The Glee Project was really created because of Chris. Originally, he auditioned for the role of Artie and wasn't right for it, but Robert liked Chris so much, he took him to Ryan and the role of Kurt Hummel was born!

During the performance, it seems like not only did Ali choreograph things, she also took the best lines for herself. Chris complimented Blake on his intensity and Aylin on her volume control. Then he called Ali a character and picked all three of them as the winners.

They'll all get a special mentoring session with Chris, but only one will win. They'll all also get a special role in the Big Group Number, set to Hot Chelle Rae's "Tonight, Tonight."

In their choreography session with Zach, he says they all look best when they're not dancing together. As in, if they all do their own thing. But on the show, they'll have to dance with everyone so that's not really going to work long term, I think.

In the studio with Nikki, Blake gives a great performance, as usual. Aylin takes a minute to warm up but finds her voice easily. Ali rolls in and out with no issue at all.

The theme of the Big Group Number is prom. Aylin is playing a girl who sneaks out of house to get to the dance. Blake is playing a "popular but humble" prom king. Ali is playing a flirty mean girl. So basically, they're playing the roles Ryan and the other writers discussed for them last week.

Zach, Robert, and Nikki wonder if Aylin will actually be able to withstand the backlash of playing a rebellious Muslim should she be cast for that role. Blake, they feel, is just a solid performer. Ali, they call "vibrant" but wonder if she looks too forced during her performances sometimes.

Things are going well on the set and then Erik brings in a special guest to help round out the video--Season 1 winner Damian McGinty.

Blake and Aylin look great in the video. Ali's "character," the "flirty mean girl," doesn't fit with the song. She's also off on her lip-syncing. Now it all comes down to Last Chance performances.

Robert reminds them that tonight, one of them will be the winner. Nikki says that Glee downloads have reached over 40 million downloads. Zach says he thinks this is the best prize on television. They'll perform in front of Ryan and the rest of the writers, several cast members from Glee, and their former castmates. Tonight, a star will be born!

For Last Chance performances, each contender has chosen his or her own song.

Ali chose "Popular" from Wicked. She believes the song shows a sweet, manipulative girl and thinks that it will help her prove that a character like that needs to be on Glee. Zach did his huggy thing. It's funny and good, but not spectacular. Ryan calls her a "great source of light and optimism."

Blake plans to sing "I'll Be" by Edwin McCain because he wants to show that there's more to him than meets the eye. Zach gives him a double thumbs-up Dianna Agron has a smile the size of Texas on her face. After his performance, Blake pulls out a poem he wrote to prove to Ryan that he's the one to choose. Robert and Nikki burst into tears.

Aylin, to close the night, chose "Rolling in the Deep" by Adele. This song, she believes, shows both her sassy and vulnerable sides. Between the two remaining girls, Aylin has the best voice.

Darren Criss thinks Ali could bring something new to the show. Dianna and Grant Gustin agree with him. The writers back Blake, as does Erik, saying he's always solid on set. Samuel backs Ali. Charlie gives a tearful, heartfelt, impassioned plea for Aylin and Amber Riley throws in her support.

Once everyone leaves and it's just Ryan with Robert, Zach, and Nikki, it's clear that this is anybody's game. Any of the final three would make an excellent addition to the existing cast.

As the contenders stand in front of Ryan, he reminds them that with the graduating seniors, Season 4 of Glee will be changing, and they need someone who can fill in one of those gaps.

Ryan says he's loved Blake's leading-man quality and talent. Ali has been wonderful and optimistic. Aylin has a story that Ryan loves and says she's a wonderful vocalist. However, only one of them can win, and that winner is...

Blake!

Welcome to Glee! This was an excellent choice! He's capable of being so many things and isn't taking the easy way out with the writing! I know I'm excited!

What did you think? Are you ready to see Blake on Season 4 of Glee?

Miranda Wicker is a Staff Writer for TV Fanatic. Follow her on Twitter.

Tags: The Glee Project, Reviews
From Around the Web