Louie Review: Every Secret Is A Lie
by Neal Lynch at .
Here it is. The final installment of an epic three-part story arc, "The Late Show (Part 3)." Crazy how this ISN'T the finale. How Louie could give us one more episode after this is more than a little baffling.
It just seems like the perfect way to go out – at least, from what we expect. What do we expect? For me, I was prepared to witness something heart-wrenching and demoralizing. To see Louie's world crumble, shot down in flames. What I got was something, for the most part, very un-Louie-like.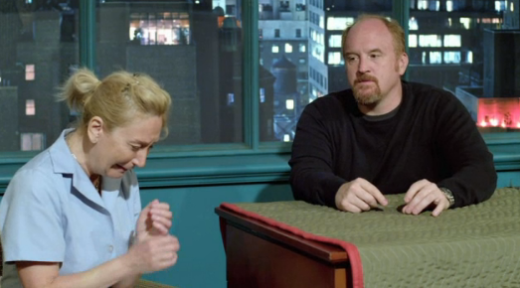 The opening music indicates there's more abuse and hopeless sorrow in store for Louie. But, after a few bars, it switches to a slightly more upbeat tune. Luckily, his daughters are there to bring whatever endorphin rush Louie got from jogging back down to Earth. Yet it shows the swing in his mood. In the previous two parts, Louie was questioning himself; he was looking for an out, for something or someone to provide him with an easy out. Here, he's defending his choices and standing up for what he was bashing in the early part of Late Show Part 1.

However, the scene ends with a hint of doubt. He's still not fully on board; still lacks that confidence all late night talk show hosts have.

Louie might be winning himself over, but he's not even close with Jack Dahl, played tersely and almost robotically by David Lynch. Ironic that the gruff and stone-faced Dahl wants to see more 'funny' out of Louie. I can't even imagine what would make that dude laugh. However, Louie's desperate 'pencil penis parade' comment buys him another week with the mentor.

The funniest part comes when Dahl sternly requests that the petrified agent leave. The whole scene was disastrous for Louie. Any confidence we had in him after the opening scene is just about gone. He's headed for failure on a grand scale.

Then comes the interview on set with the cleaning lady who breaks down in tears, Louie taking punches on the ropes – a perfect metaphor for his progression – or lack thereof – towards becoming a host. Even in his own apartment in front of a camera on a tripod with no one around, Louie's tight. His muscle memory reliance on Dahl's teachings can't even help him out.

Then comes a visit from his kids wishing him luck. It reinvigorates him. We see a renewed energy as he jogs through the streets, his pace picking up a bit. Rocky references abound again when a group of kids follow him.

Here we are at the main event: the test show in front of a live audience. It has all the makings of a heavyweight title bout. He gets the visit from his mentor (Dahl as Mickey), but this tale veers off where most pre-fight scenes go. The odds are against Louie like they were for Rocky, but I don't think anyone believed Louie could pull this off.

We expect Dahl's visit to be a pep talk but it's more of a final lesson that's immediately useful when Seinfeld proves rule #3 – every secret is a lie. This fires him up. He goes out, appears loose, makes jokes about the cue cards, about his 'first time' with Susan Sarandon, about Paul Rudd's kid's name.

I have to be honest. I didn't know he had it in him. I didn't think he'd come off that smooth. And it wasn't hokey or fake or contrived. It all felt natural. He made it his own. Yes, he was buying into the system by wearing a suit and tie and not swearing (showing amazing restraint on the masturbation story with Sarandon). It's still Louie. He's still funny, but a different kind of funny. Talk show host funny without losing who he is and where his funny comes from. This might work after all.

When the Head of CBS TV watches the feed, gets a call from Jackie and says Louie is perfect and that he's got an option... I briefly pump my fist. But this is Louie. Something bad's gonna happen. It's inevitable.

As Louie celebrates with friends, we're just waiting for the bomb to hit. His agent's face gives it away. When Nick DiPaolo tells everyone to shut up and turn up the TV, we know this is the moment when it all comes crashing down, we're just waiting to know how. The announcement was a shot to the gut for Louie, but we knew it was coming. Him being 'dead' to Letterman. Another shot. What we didn't see was his reaction.

The old Louie would've been pissed at the world, done something stupid to get his ass kicked or arrested or devolve into a shame spiral of over-eating and masturbating. Instead, he walks right up to the sign and raises his arms in victory with triumphant celebratory, in-your-face cheers outside the Ed Sullivan Theater. One last hat tip to Rocky.

Seems like a pretty decent finale, right? So, what in the hell does he have up his sleeve for the actual finale? How can he possibly top that life-changing trilogy? My guess is wipe it all away and bring him back to Ground Zero. 

Tags: Louie, Reviews
From Around the Web