Tonight, the CW aired two new episodes of The L.A. Complex. I'll tackle "Make it Right" first. 
This was a great episode for most of the characters, but I especially loved (unsurprisingly) Kal, Connor and Raquel. Even Abby, who hung on to the coattails of the Kal/Tariq storyline, was completely likable this week. 
Let's start with Connor. If him talking to that street Scientologist with Raquel earlier this season was dipping his toe in the water, here he's jumping in and he has to start with a personality test.
I loved the questions he was asked, most of it making him reflective of his current state of depression, but a number of inquiries just completely odd (corporal punishment?!). Granted, I'm not a Scientologist, but I have done some reading on the subject and am vastly interested in any take on how it all works. 
So to see Roxanne completely manipulate Connor into breaking down, just by asking him a question repeatedly, was completely fascinating. And of course, this is right on the heels of me seeing The Master which implored the same method of "cleansing." As soon as Connor wrote that check, my immediate thought was, "Oh, you're in the game now." It's anyone's guess what will happen to Connor next. 
And just when it appeared Raquel was heading back on the straight and narrow, she decides to dabble in a little illegal identity fraud. Hands in the air if you think this will come back and bite her? (Everyone raises their hands.)
One thing I love about this show is how storylines seem to have definitive endings. We got to see Tariq again. And he seems happy. While it must have been terribly hard for Tariq to speak to Kaldrick, both of them seemed to gain some level of closure by talking. Both of them are right. I never see Kal doing anything like this to anyone again. But that doesn't mean Tariq is going to forgive him for being his guinea pig. As Tariq said, "I'm glad I could help you grow" sarcastically, it became quite clear that Tariq is trying to forget the past and move forward, while Kal has to address his demons and move on.
As for Beth, she went on a date. Simon and Kevin made bubbles. And Beth and Cam went on a date. This date consisted of an ice skating rink and an SAT test, two of the most unrealistic parts of the episode. When my roommate asked, "Who does this?" when Cam revealed his ice rink picnic, my response was simple: "only people on TV shows."  eep it real, please; this show is in most every other way.
The Sabrina/Nick storyline reminded me of the first episode of Girls. Time to start making it on your own, Sabrina. No more money. 
Onto "Now or Never" which does a great job of setting up the show for what I'm predicting will be an explosive season finale, and hopefully not a series finale. Honestly, this series is so much better than half of what's on television right now. 
To start, the Scientology parts of this episode were stellar. Watching Eddie burst Connor's bubble about his new "religion" and informing Connor it's a cult was fun to watch. Connor's personality is so malleable; he is the perfect example of someone who would write out check after check if someone tells him it's helping himself.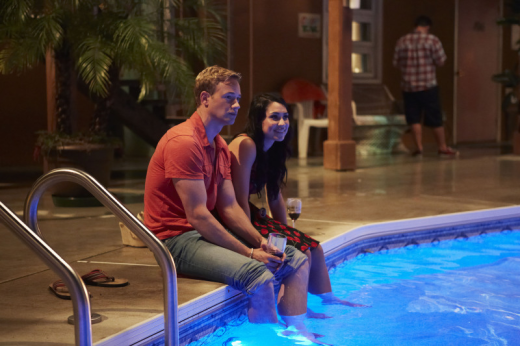 Even after Charlotte told him about earning a cut of his money, he still stuck it out, mostly because he saw a celebrity he looked up to at the Center (probably a plant) and because Roxanne has him convinced that getting rid of any negative influences like the internet and the truth will cleanse him and bring him joy. I wonder if Connor will soon be declaring bankruptcy.

Beth and Simon took up a bit more time in this episode as their father came back to stay with them. Unsurprisingly, he seems immature and ill-prepared to raise children, especially a kid as precocious as Simon and independent as Beth. I'm glad Beth confronted him and I'm glad he's gone. Not much more to say.

I don't know why, but Abby is seemingly more likable in tonight's episodes. It could be because she's being rational, but from the looks of next week's promo, it doesn't look like that's going to last very long. Grey is being a little too mysterious about the Air Force.  Are we sure he's telling the truth? 

Oh, Raquel. Why must you always choose the harder path? If one customer sees what she's doing, more are bound to follow. And it's a shame for a couple of reasons. For one, her boss is a nice guy and she's already screwing it up by taking advantage of customers at his restaurant. And two, she's going to pay for this crime. And it won't be pretty. 

One word review of Nick and Sabrina's exchanging of "I love yous" is awwwww. 

And finally, Kal.  What a great episode for him! He is finally on the road to redemption. He fixes things with Chris by giving him a peace offering in the form of his amazingly gay sculpture, he apologizes to Dynasty and puts down (like my recording lingo?) some great lyrics in the studio, earning him back respect from his producer. And he even invites his father along to see the whole thing.

Of course, there are some hitches. The first of which is when Infinite Jest and his new entourage come rolling into the studio. Ouch. Jest is now presumably signed to Kal's label. But that's not where he's really hurt. It's Rook's loyalty that he lost and now Rook is rolling (more fun lingo) with Jest's crew. And then one final push for Kal right over the edge. He's with Chris. They're making dinner. And then Kal gets a phone call. Walter, his father, is in the hospital. We'll see where that goes, but at least Kal may have someone he can lean on in Chris to get him through it.

Next week's season finale looks to be action-packed and unpredictable. Everyone tune in and make your friends watch too! 

Tags: Reviews, The L.A. Complex