Hart of Dixie Review: Revenge in Bluebell?
by Kate Brooks at .
"Always on My Mind" was probably one of the funniest Hart of Dixie episodes to date. I don't remember the last time I laughed this hard at the show. It was fun, hilarious and definitely entertaining. Very well done overall.
When the gour started we saw that Zoe and Wade were at it again... well actually, they were just finishing. As much as Zoe won't admit it, she likes her little fling with Wade. Let's all be honest, who wouldn't? Wade Kinsella is one good looking country boy. Wade was right when he said she was addicted.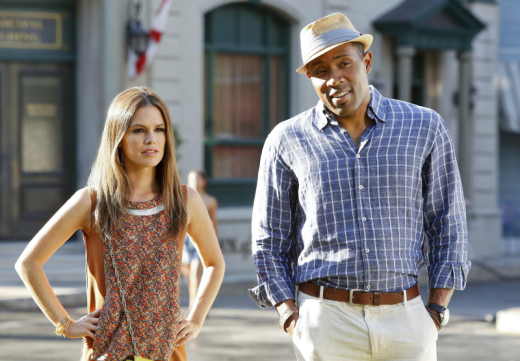 Throughout this episode the theme seemed to be being the best version of yourself. Lavon was happier around Ruby and vice versa, Rose was trying to make herself content by throwing the BlueBellapalooza, Zoe was attempting to NOT have sex with Wade, George was trying to move on, Brick has a new girlfriend, Lemon was hoping to find herself, and Wade was, well... Wade.

Everyone had something to do and had their own little storyline in the episode and that was my favorite part. Everyone mattered. 

Let's start with Zoe and Wade. Their storyline is becoming more and more interesting to me. First they can't stop having sex and so Wade bets Zoe they'll hook up within the next 48 hours, but unfortunately for Wade, they didn't. The tension between both of them tonight was the best it has been all series and I honestly felt their connection. I believed it and now I want more. 

Poor George. He was finally doing so well with the new girl and was in high hopes of moving on, but Lemon unintentionally ruined it. I enjoyed seeing George, after everything, still going over to Lemon to make sure that she was okay and then she actually smiled. Lemon grows more and more each episode. All she wants to do is prove to her daddy that she could make it on her own and that is why she is my favorite. Yes, Lemon Breeland is my favorite. Just wait, you'll see it eventually.

When I was talking to Tim Matheson, I asked him if Brick was going to let Lemon go and allow her learn how to be on her own and he said that Brick was going to have a hard time with that. Obviously, he is. He tried a numerous amount of times tonight to convince Lemon to work for him. I think we all were saying that it's time to get let fly, Brick. Lemon is in her 30's. It's sweet to see him holding on but it's also selfish and pathetic. But Lemon needs to learn how to be her own person.

Moving onto Ruby. Let me just say, I love her. I knew it was going to be her running against Lavon! How perfect is this? The current mayor up against his old flame whose heart he broke. Can we all agree that Revenge has moved to Bluebell, Alabama! This is definitely going to make things interesting. Cress Williams recently said that "sparks will fly" between Lavon and Ruby and since she will be his competition, does this mean that the sparks aren't so nice? I have no idea but I look forward to finding out.

In the end Zoe still doesn't know who she wants to be with. You have sweet and innocent George who all of the sudden has amazing singing skills. Then you have Wade, who doesn't like to wear shirts and works at the Rammer Jammer. They are both complete opposites and it makes for good television. I hope that from here on out their love triangle doesn't get cheesy; it has some really good potential.

It's nice to see Hart of Dixie go towards a lighter side and have much more comedy than the first season. Tonight's episode was definitely one of the best yet. They have a good set up started and I'm ready to see where it all goes. Also, give us more Rose, I find her so charming and adorable. 

Next week it looks like a new illness will be going around Bluebell and will everyone blame Zoe Hart? Probably!

Tags: Hart of Dixie, Reviews
From Around the Web