Jim's Notebook: Open to Gossip Girl, The Walking Dead and More!
by Jim Halterman at .
With most new and returning shows having premiered, and a series of CW favorites on tap for next week, there's simply no time waste:
Jim Halterman has once again opened his reporter's notebook and produced juicy tidbits from the new seasons of Gossip Girl and The Walking Dead, along with NBC drama Chicago Fire and much, much more...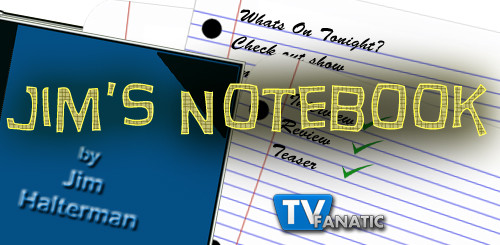 GOSSIP GIRL During my chat earlier this week with showrunner Sara Goodman, I asked if having the final season only consist of 10 episodes was a luxury in terms of storytelling... or quite the opposite because they have a lot to wrap up with our favorite Upper East Siders.

"I think it's both, quite honestly," she said. "It is a huge luxury because we know exactly how long we have and I think that we could build it the way that we wanted to build it, and it's also sad for us because we love these people."

As for familiar faces that may show up again? "There definitely will be surprises along the way of who's going to come back and how and when and then we definitely try to pay homage and tried to make sure that we were getting the people we needed back. I can't tell you who."

How long will Georgina Sparks be around? Will it be Dair or Chair in the end? Will everyone be romantically paired up by the end? Goodman and I talked about all that and much more so keep an eye out for the rest of the interview coming Monday on TV Fanatic.

THE WALKING DEAD When we start the new season of AMC's zombie-tastic adventure - on October 14! - some time has passed since we last saw Team Rick depart Herschel's farm and seek a new safe haven - and the first few episodes take place at an abandoned prison... well, abandoned of any humans! But we also have the tense relationship between Andrew Lincoln's Rick and Sarah Wayne Callies' Lori and the two actors talked about it at the show's press junket yesterday in Beverly Hills.

Callies explained that the state of the world the characters are living in might actually be keeping them together: "Were it not for the end of the world, we would just go our separate ways and go 'there is too much pain, too much loss.' At this point you go, 'I can't bring myself to leave. I can't bring myself to look at you. I don't know where that leaves us.' I think that we've been festering in that."

Lincoln added that they made sure to instill that heavy emotion in their acting by one simple choice: "We made a conscious decision not to make eye contact because every time we look at each other it burns with guilt and shame of what has happened."

Both actors also stated that the long history between the characters is one of the things keeping them together: "They're starting to forget the past," Lincoln said of all the survivors in The Walking Dead world. "Words mean less and so holding onto your history means everything in this apocalypse."

The rest of my Walking Dead coverage – including a chat with the new big bad of the season played by David Morrisey – will be posted early next week on TV Fanatic.

THE SIMPSONS Moving from zombie thrillers to animated ones, The Simpsons' 'Treehouse of Terror XXIII' airs this Sunday and Executive Producer Al Jean told me when I sat down with him recently, "I'm thrilled that it airs in October" since Fox has often aired the holiday episode post-Halloween. 

He also said to expect another great, fun-filled episode this year, saying "the first part deals with the prediction of the world ending in 2012. Then we have a black hole segment where we see a copy of the DVD of Disney's The Black Hole thrown into a black hole and it's got about the same reception as it did when it came out. We have a found footage satire, which is really well directed by Steve Moore."

Then, in another Simpsons tradition of paying homage to a classic film, the show does so with one that helped make Michael J. Fox an international superstar.

"We have a segment where it's a little like Back to the Future. Bart goes back and breaks up Homer and Marge so that Marge marries Artie Ziff, voiced by Jon Lovitz."

Because the election is coming up soon, did Jean reveal any election episode spoilers? Oh yes: "We have something coming up... basically Homer tried to vote in 2008 and it didn't go so well, but he tries again."

PARENTHOOD The Jason Katims series has never shied away from a weighty subject, but when it was revealed that Monica Potter's Kristina has breast cancer, an even heavier-than-usual dose of reality burst onto the show's canvas for the first half of the new season. On a press call earlier this week, Katims said that he knew that not only could the show do the story justice but that also goes for his talented cast.

"I'm lucky to have this incredible cast and actors like Monica and Peter [Krause] and the rest of that cast, to tell these stories. And I felt we can do it in way that was kind of honest."

Katims also revealed what was said during his first conversation with Potter; "She said, 'I want to find the humor in the situation too. We don't want to get to a place where I'm crying all the time and that's all I'm doing.'"

The series creator, who went through the experience with his wife, knew another way to make the story seem real: "The whole thing with going through something like this [is] that you go through it, but as you're going through it life goes on. You have your children, getting your children to school and doing all the stuff of life, you know, still continues."

CHICAGO FIRE The new NBC firefighter drama kicks off next Wednesday, so expect to see lots of heated fires to be put out both on the job and in some of the relationships between the show's characters. On a press call earlier this week, Jesse Spencer - who plays Lt. Matthew Casey alongside actors Taylor Kinney, Monica Raymund, David Eigenberg and Eamonn Walker - explained how the personal and professional lives would coexist on the series.

"When you see these guys," the former House star said, "they have their personal issues and professional issues, whatever goes on between them and wherever they disagree but [that] is always thrown out the window when they're working together. And that's when we see them doing the jobs that they were born to do."

Spencer added that there is also a family component to the characters on the show, which isn't just a construct for the series but taken from the reality of firefighters.

"It's a big messy ugly family but once the s**t hits the fan, they'll throw themselves under a bus for each other. And I think that's true of the real firefighters. You know, whatever happens once they go into these situations they look after each other and, you know, lives are at stake and they're there to help each other. And that's always going to be true to our show."

That's a wrap! Time to close my Notebook for now. Anything else you're dying to know about your favorite show? Leave a comment here or you email me directly at jim@jimhalterman.com. And remember: get all your TV scoop by following @TVFanatic.

Jim Halterman is the West Coast Editor of TV Fanatic and the owner of JimHalterman.com. Follow him on Twitter.

Tags: Gossip Girl, The Simpsons, Parenthood, The Walking Dead, Spoilers, Chicago Fire, Jim's Notebook
From Around the Web